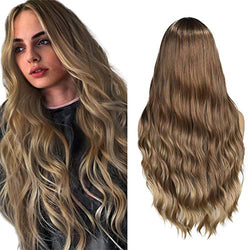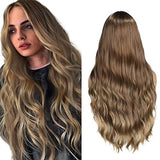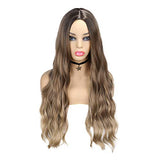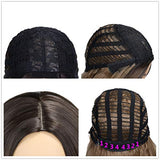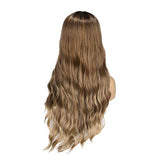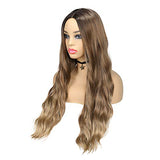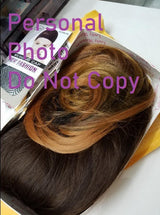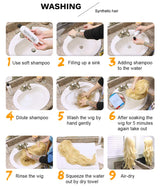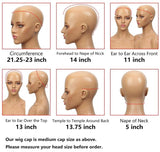 Tri-Tone Brown to Blonde Beach Wave 24"
Tri-Color Ombre #4/#30/#27
Unit is a Wavy Heat Resistant Synthetic Fiber that Feels Like Human Hair and is perfect for Daily Wear.
Styling required to achieve the exact look shownMade from Top Quality Japanese fiber, soft and smooth Wig can be heated up to 150 degrees centigrade (300 degrees Fahrenheit)
Wig Cap is a Non Lace Rose Net for more Comfort and Heat Dissipation Adjustable and breathable rose net 20.5"- 24.5" with two adjustment straps that can be interwoven into a fixed position to accommodate different head sizes.
Unit is constructed to feel like human hair and scalp. Netting is breathable and comfortable for all day wear.
With proper care and maintenance can be used for a long time.
Every Woman Need This Beauty in Her Wig Closet Yesterday!
Washing Wig: 1. Soak the hair gently with mild conditioning shampoo in cold or warm water
2. Rinse the hair in warm water towards to the same direction
3. Brush the hair gently in a downward from top to end
4. Lay flat the hair and leave it natural air dry
Warm Tips:
1) Slightly Color Difference between Different Monitors.
2) Not To Spray Gel Water And Wax On The Wig, It Will Cause The Wig To Look Oily.
3) All synthetic hair wigs be happened to minimum shedding and Tangling which is normal.
4) Be Gentle And Patient When Combing Wigs. Long Wigs Should Be Combed From the Bottom to the Top
5) The best way to storage a is on a wig stand or mannequin, you can also store wig in a hair net and plastic bag in a cool dry space.