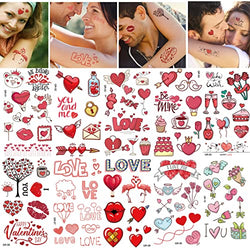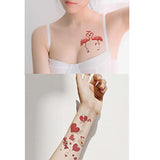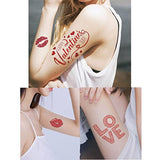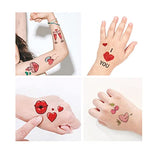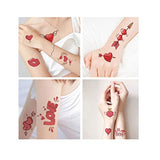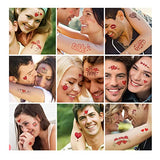 Valentine's Day Temporary Tattoos Stickers 10 sheets
Valentine's Day Temporary Tattoos Stickers, Love Heart Tattoo stickers decal, Mixed Style Valentines Romantic Face Tattoo Sticker, Waterproof Tattoo Stickers or Kids Girls Boys Party Decoration Supplies for Valentines Party, Wedding (10 sheets)
Packing quantity: Valentine's Day Temporary Tattoo total 10 sheets. Size: 4.7 * 2.7 inches. Sweet romantic love fake tattoo for kids, girls, women and adults couple.

Material: Valentines Romantic Face Tattoo Sticker are safe, waterproof, environmentally friendly, skin-friendly, non-toxic. Please take it easy. Valentines Day Gift for girlfriend.

How to use Valentine's Day Temporary Tattoos: step1,Cut out the required part; step2,Tear off the transparent film gently; step3,Stick the pattern surface on the skin; step4,moisten the white paper surface with water; step5,Slowly tear off the sticker paper;step6,Finish tattoo stickers;

Easily control the duration: under normal circumstances, it can be kept for a week, and then it will fall off naturally; if you need to fall off in advance, use shower gel and bath ball to scrub when taking a bath; if you need to fall off immediately, use a children's alcohol cotton pad to gently wipe it off.