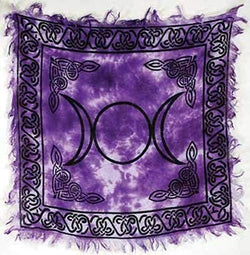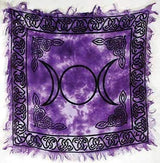 Triple Moon Altar Cloth 18" x 18"
Brand: New Age
Color: PURPLE WHITE
Features:
High Quality Altar Cloth
Beautiful Design
Made to Last
Size: 18'' x 18''
Binding: Kitchen
Details: This violet tie-dyed altar cloth features the design of the Triple Moon symbol of the goddess upon its surface, representing the three faces of the Goddess: Mother, Maiden, and Crone. Representing the sacred and powerful stages of life, it is a wonderful addition to any altar. The entire piece is bordered in intricate Celtic knots and measures approximately 17" by 17", not including the fringe at its edges.
Package Dimensions: 10.0 x 10.0 x 0.2 inches
Languages: English