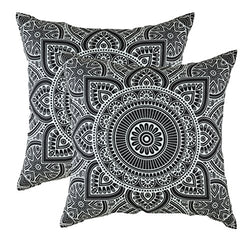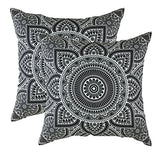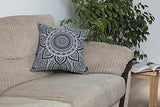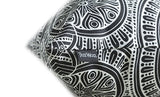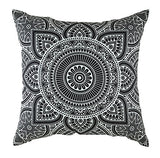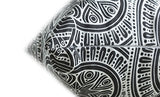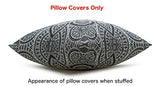 Throw Pillow Cover Mandala Accent 100% Cotton
Throw Pillow Cover Mandala Accent 100% Cotton
Color: Black
Features:
PACKAGE : Includes 2 piece 18 x 18 Inch (45x45 cm) cotton cushion cover only. This product does not come with pillows or fillers. Customers will be able to use their own existing pillows or find a filler from the market to use with this product.
FABRIC & DESIGN : Pure natural cotton fabric. Durable, Washable and Eco-friendly. Large 16 Inch (approx.) opening for easy insertion and removal of pillows.
FEATURES : Same design printed on both sides of these pillow covers. They come with invisible zippers to give a "no-opening-look" for elegance. Get the modern and trendy look to your home.
USAGE : Use anywhere indoors like sofas, couch, bed, chair, etc., Pillow covers would get softer after first wash. Just give it a cold wash inside out and allow it to dry naturally and give it a warm iron.
QUALITY ASSURANCE -  Each pillow cover is entirely handmade and are made to last long.

Details: Box Contains : 2 Piece Cushion Cover / Shell only. Cushions are not included. Carefully hand finished for a superior quality Cushion Cover that is sure to add a great accent to your living room, lounge or bedroom. PRODUCT FEATURES 1. Each unit is made with 100% light weight cotton canvas for increased durability 2. Each unit has a high quality hidden / concealed zipper, that allows for easy insertion and removal of pillow inserts 3. In the inside, all fabric edges are stitched with overlock stitches to avoid fray and increase durability of cushion covers 4. These throw pillow cases are suitable for use in sofa / couch & beds 5. Fully machine washable in cold setting. To increase the life of your cushion covers, follow the care instructions provided in the label. GOOD TO KNOW BEFORE YOU BUY 1. Due to differences in color saturation settings between each Computer, Laptop, Tablet or Phone the actual product might have a minor color difference to the picture on screen. 2. As each product is entirely handmade, there may be minor size variation ( + or - 0.5 cm ) CHOOSING THE RIGHT PILLOW COVERS (OR) PILLOWS 1. Measure 2 adjacent sides of existing pillows. This will give the size of the pillow cover to choose. E.g., if the pillow is 16 x 16 Inch on the sides, then the pillow cover to choose is 16 x 16 Inch. 2. If buying new pillows, then a) Choose either the same size pillows as the pillow covers (e.g., 16x16 Inch Cover = 16x16 Inch Pillow) (OR) b) Choose up to a maximum of 2 inch bigger pillows than the pillow covers to get a full and plump pillows.(e.g., 16x16 Inch Cover = Up to 18x18 Inch Pillow)
Package Dimensions: 6.4 x 6.2 x 1.7 inches