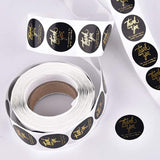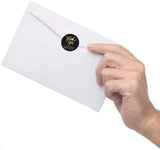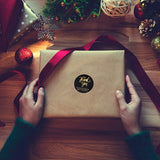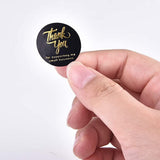 Thank You for Supporting My Small Business Stickers | Round Labels | Use on Bags, Boxes, Envelope | 500 Labels Per Roll | Tamper Proofing
Thank You for Supporting My Small Business Stickers, Round Labels for Business, Online Retailers, Boutiques, Shops to Use on Bags, Boxes and Envelope, 500 Labels Per Roll
✈1 inch Diameter-500 labels per roll.
✈Round Thank You Stickers - These cute and friendly looking black & gold round stickers are perfectly to add on your gifts, packaging, notes, and letters as a finishing touch, meant to show anyone how much you appreciate their contribution
✈Thank you sealing labels express your gratitude in a fun and cheerful. Awesome stickers for your greeting cards, flower bouquets, parcels, candy bags, gift wraps
✈Just peel them from the roll and stick where you want - Stickers are self-adhesive, cute and sleek designs for home, modern business needs
✈Ideal for birthdays, weddings, house warming and baby showers - Premium gloss finish and strong adhesive backing, adhere to and smooth surfaces including gift bags, packages and envelopes,greeting cards, flower bouquets, parcels, candy bags, gift wraps and etc.
USA Seller
U.S.A. Seller
Ships from the USA
Ships from the U.S.A
WE MADE IT 2021 IS HERE
Be sure to use Discount Code TAKETENOFFANY to receive a 10% discount off your purchase from my shop. Thank you in advance for looking at my items.
Please stay safe as the New Year Begins a Renewed Celebration of Life.
For the month of January I am offering a flat 25% off ANY 1 or more items on my personal website.
www.TimelessThreadsOfVegas.com
I hope you will drop in and start saving today.
Sometimes, you just don't feel like doing your hair. I hand alter all my wigs to look realistic and convincing enough to be worn out on the town or for photo/video shoots. Suffering from hair loss? Get your confidence back with an awesome new look! A New You is Waiting With Each Custom Hand Crafted Wig I Make, Be Sure to Get Yours Today!
Shop Under Construction BUT I am adding items every day!
Follow Shop and Check Back OFTEN for NEW ITEMS!
Save 10% on ANY Purchase - ANY Day - NO MINIMUM - Please use Discount Code TAKETENOFFANY at Checkout.
Other Discounts Offered RCA-15Percent at TimelessThreadsOfVegas.com
You can also Save 10% at ASpell4U.com by applying the code SpellMe10 at my site www.aspell4u.com
Thank You for your support of ALL Small Businesses in this time of Crisis including mine. May the Country Recover Soon!
Need your order a bit sooner?
We can't guarantee this over Christmas as we are ALL at the Mercy of the Post Office.
* PRICE (DOMESTIC )
$11.00 for Domestic U.S.
Priority Mail is in addition to the regular shipping charge, not a replacement for it.
Priority Mail Upgrade Can be added to ANY ORDER using the link below.
https://www.etsy.com/listing/929885943/priority-mail-upgrade?ref=listing_published_alert