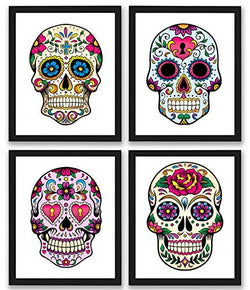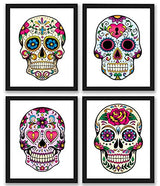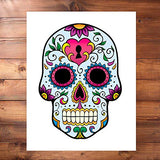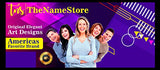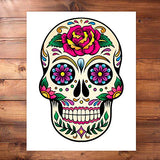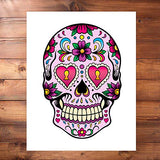 Sugar Skull Decor Art Prints | Set of 4 Photos 8x10 Unframed | Mexican Day of The Dead Gift
Brand: TheNameStore
Features:
SUPERIOR QUALITY and FREE SHIPPING: Each of our Sugar Skull Decor Art Prints is printed on high quality, high gloss 8 x 10 ultra archival quality photo paper to make sure it lasts. We never compromise on the quality of our Sugar Skulls Decor Art Prints.
4 PRINTS FOR THE PRICE OF ONE: You get four different beautiful pieces of 8x10 Sugar Skull Decor Art Prints for one low price.
A UNIQUE NEW BEAUTIFUL SUGAR SKULL ROOM DECOR GIFT TO TREASURE FOREVER: Need gift ideas for SUGAR SKULL DECOR? Don't worry we have the best gift ever. Each print is uniquely made, and has a carefully crafted design, and features unique artwork.
BRIGHTEN, INSPIRE, UPLIFT AND MOTIVATE: These Sugar Skulls ROOM DECOR Art Prints are carefully chosen to brighten, inspire, uplift, and motivate and help you get through the day feeling great..Featuring original sugar skull artwork commercially licensed to TheNameStore.
PERFECT GIFT FOR ANY OCCASION: Whether you're looking for Sugar Skull Art, Sugar Skulls gifts, skull themed room decor, or just looking for premium quality sugar skull posters or pictures, these cute Sugar Skull DECOR Prints are perfect for every occasion!
Binding: Kitchen
Details: Sugar Skull Decor Art Prints 4 Pack | Set of Four Photos 8x10 Unframed | Mexican Art or Day Of The Dead Gift Each Sugar Skulls Decor Art Prints print is high gloss 8 x 10 and is ready to be framed. You're family members, friends, children, son or daughter, or anyone of your choosing will cherish these 4 prints forever! Makes a great unique personalized Unicorn gift for Birthdays, Christmas, Hanukkah, Newborn Baby, Baptism, Weddings, Anniversaries, Veterans,Thanksgiving, Easter, Grandchildren, Kids, Girls,Brother Or Sister, Dating Couples, Sugar Skulls Wall Art, room decor and just about any occasion you can think of ! We also have many other print styles for every occasion and many other gift themed items. Please visit my Amazon store (www.amazon.com/shops/thenamestore) or search TheNameStore (NO SPACES) in Amazon Search
Package Dimensions: 13.9 x 10.1 x 0.1 inches