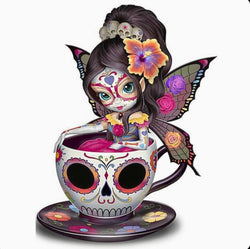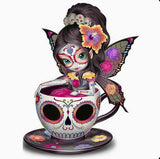 Strangeling Fairy Butterfly Mexican Spanish Skeleton Cups Diamond Painting 12 x 12 or 16 x 16 Inch Paint by Number Kit
Strangeling Fairy Butterfly Mexican Spanish Skeleton Art Print by Jasmine Becket-Griffith (licensed under CC0) Surreal Big Eye Girl Strangeling Gothic Ocean Magical Whimsical Room DIY 5D Diamond Paint by Numbers Artwork 12x12 or 16x16 Inches

Paint by Number Kit! - Included Tools: Diamonds Plates, Point Drill Pen, Tray, Eraser, Instructions, Kit!! ♥️
Paint by Number Kit!

Included Tools: Diamonds Plates, Point Drill Pen, Tray, Eraser, Instructions, Kit ♥️

 
Jasmine Becket-Griffith Inspired Strangeling Fairy Butterfly Mexican Spanish Skeleton
 

is licensed under

 C

C0.
5D DIY Full Round Drill Diamond Painting Big Eyes Doll Mosaic Kit Rhinestone Drawing Picture Home Decoration Art Craft
Feature:
If you want to make your home more beautiful and colorful, the Diamond Painting can help you add the gaiety decoration.
DIY painting, originality, painting and resin sequins, the resin sequins dazzling, unique luster, shining light, is the most popular DIY jewelry at present.
Colorful diamond painting decorate your home.
Perfectly decorate your living room or bedroom to match and create the different styles, we are sure that you will like it.
Specification:
Material: rhinestones + canvas
Project type: 5D diamond painting
Color: as shown
Diamond type: round diamond
Canvas size: Approx.12x12 or 16x16 inches
Space: living room / bedroom / classroom / entrance
DIY diamond painting steps:
1. Open the box,  
2. According to the color code, choose a color into the plate; If you paste the same color at the same time, you can increase the speed;
3. Find the symbols in picture, beginning paste until finish it;
4. When you finish it, put some books on top, this allows it to seal more firmly;
5. Congratulations, you can go framed up and decorate your home now!
Preventive measures of DIY diamond painting:
1. Refer to the previous operation steps.
2. If you don't know what the color, please refer to the color chart.
Tips:
Kit includes the resin diamonds, semi-finished products, purchase does not including frame! 
This is DIY diamond painting. It is not finished. You need to do it yourself.
Note:
1. Due to the different monitor and light effect, the actual color of the item might be slightly different from the color showed on the pictures. Thank you!
2. Please allow 1-2cm measuring deviation due to manual measurement.
Package Content:
1 X Diamond Painting (diamonds need to be pasted)
1 set X Diamond Painting Tools (not including painting frame)
Stranglings, strangeling, Limited edition, Jasmine Becket-Griffith, Fairy Butterfly, Mexican Skeleton, Spanish Skeleton, 
Dia de los Muertos 
Cups, Day of the Dead, Darklings, Fairy Figurine, Beautiful Queen Of Love Figurine, Big Eyes Doll