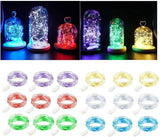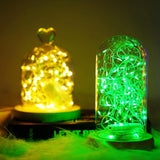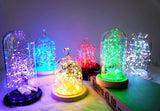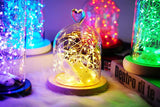 Starry fairy string lights led firefly silver color wire lights 20 led 7.2ft battery powered lights for diy wedding party jar centerpiece
Starry Fairy String Lights LED Firefly Silver Color Wire Lights 20 LED 7.2FT Battery Powered Lights for DIY Wedding Party Jar Centerpiece Christmas Decorations (18 Pack, 6 Colors)
Safe High-quality Fairy String Lights All Super Bright Lights are Safe to Touch. High Quality Low Power & Heat Insulated Copper Wire will not Overheat during usage. Just Simply Switch on the Lights and Enjoy these Amazing Glaring Fairy Lights.
Flexible & Waterproof Copper Wire 7.2feet Extra Thin String with 20 LED Starry Lights. Flexible Thin but Sturdily built, the string lights can easily be bent into the shape you need, 360 degrees Sparkle with Romantic Effect. You can put the string into Water or Non-Corrosive Liquids.*PLEASE NOTE The Fairy Lights and Copper Wire ARE Waterproof - The BATTERY PACK IS NOT!
Enjoy DIY Fun & for Many Occasion Made of Ultra Thin Copper Wire. Suitable for Party, Wedding, Barbecue, Halloween, Christmas Indoor and Outdoor lighting decoration ,etc. Makes a Great Gift for Friends and Families.
Easily Powered by Batteries 2 x CR2032 included, battery box with on/off switch easy to be replaced. Easy to operate and small enough to hide. 48 hours continuous battery life and longer if using with breaks. Batteries need to be replaced when the lights get dim.
Mixed Colors 18 Pack 6 colors: red, green, blue, purple, white and warm white, 3 sets of each color, total 18 pack LED starry string lights. LED lights can last 50,000 hours under regular using.
USA Seller
U.S.A. Seller
Ships from the USA
Ships from the U.S.A
Shop Under Construction BUT I am adding items every day!
Follow Shop and Check Back OFTEN for NEW ITEMS!
Discounts Available on my personal website
RCA-15Percent at TimelessThreadsOfVegas.com
You can also Save 10% at ASpell4U.com by applying the code SpellMe10 at my site www.aspell4u.com
Thank You for your support of ALL Small Businesses in this time of Crisis including mine. May the Country Recover Soon!
Need your order a bit sooner?
We can't guarantee this over Christmas as we are ALL at the Mercy of the Post Office.
* PRICE (DOMESTIC )
$11.00 for Domestic U.S.
Priority Mail is in addition to the regular shipping charge, not a replacement for it.
Priority Mail Upgrade Can be added to ANY ORDER using the link below.
https://www.etsy.com/listing/929885943/priority-mail-upgrade?ref=listing_published_alert