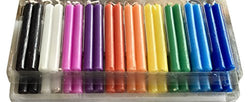 Brand: ladyrobyn
Color: Multicolor
Features:
1/2"d x 4"h high quality spell candles
Candle Color May Vary Due to Manufacturer Batch Changes
Spells and directions for use are NOT included. We believe your spells, affirmations and beliefs come from within you
Product Images by LadyRobyn
Binding: Kitchen
Details: High Quality 4" Chime Spell Candles. Imported from Germany they are 4" H x .5"D. Purchase 4 sets and save!
Package Dimensions: 11.1 x 4.9 x 1.1 inches