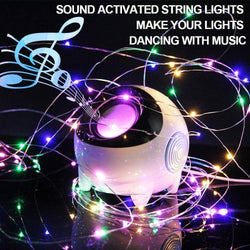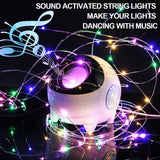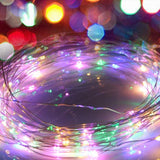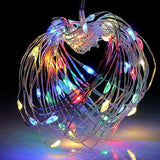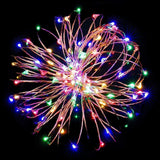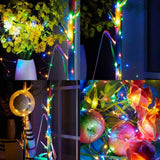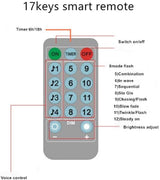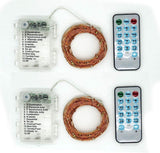 Sound activated music string lights | 32.8ft 100leds 12 modes | waterproof multicolor | battery powered | remote control
Sound Activated Music String Lights, 32.8ft 100LEDs 12 Modes Waterproof Copper Wire Multi-color AA Battery Powered String Lights with Remote Control for Bars,Parties,Christmas,Wedding Dance.
Sound activate & 12 lighting modes With smart beat sensor, the lights can react to music and different sounds. it can perfectly sync with the music in the environment
It has 4 music modes combination, piecewise, synchronous jump, alternate jump, you can choose the different mode to the music rhythm. it also has 8 lighting modes which are unaffected by the sound and music, 8 lighting modes: combination ,in wave, sequential, slo glo, flash, slow fade, twinkle, steady on.
Adjustable brightness & Set timer with the remote ,you can adjust the brightness by DIM "+" and "-". you can also set the time by the "TIMER" key, it will stay on 6 hours and off 18 hours.
Waterproof & Portable IP44 waterproof battery case and waterproof insulated copper wire,you can place this string directly into the water, you can easily carry and place the lights anywhere you like. Perfect for outdoor use, It will light up for you in-spite of rain, Battery case is water-resistant, but avoid immersing it into water.
Easy Operation]Be creative, It needn't to be plugged in, placement is unlimited, flexible with a good quality, With Remote Control and 1 button on the battery box, you can adjust the Brightness, switch lighting mode and set the timer,can be wrapped around almost everything, stairs, fence, patio, garden, room, vase,and even mental railings. perfect for both outdoor and indoor.
Safe & low voltage 3 AA batteries powered,low voltage make safe for families with young kids,each strand of string lights are made of high quality silver wire, sturdy, waterproof, insulated ,It won't overheat even after long hours use.
As a Special offer of Love from me a Discount Code of TAKETENOFFANY will be applied at checkout for you to receive a 10% discount off your entire purchase from my shop as a Thank You for your support of ALL Small Businesses in this time of Crisis including mine. May the Country Recover Soon!.
Other Discounts Offered RCA-15Percent at TimelessThreadsOfVegas.com
You can also Save 10% at ASpell4U.com by applying the code SpellMe10 at my site www.aspell4u.com
Need your order a bit sooner?
USA Seller
U.S.A. Seller
Ships from the USA
Ships from the U.S.A
We can't guarantee this over Christmas as we are ALL at the Mercy of the Post Office.
* PRICE (DOMESTIC )
$11.00 for Domestic U.S.
Priority Mail is in addition to the regular shipping charge, not a replacement for it.
Priority Mail Upgrade Can be added to ANY ORDER using the link below.
https://www.etsy.com/listing/929885943/priority-mail-upgrade?ref=listing_published_alert
Wedding Decorations Battery Operated outdoor or indoor Christmas birthday party Party Sound Activated Music String Lights 12 Modes Waterproof Copper Wire Multi-color