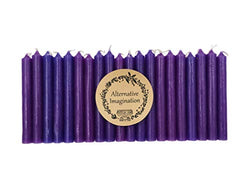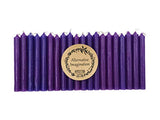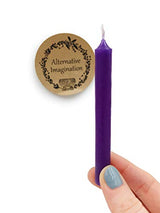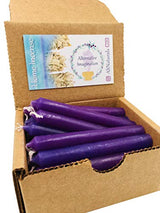 Set of 20 Purple, Unscented, 4 Inch Tall Chime Candles (Altar, Spell)
Brand: Alternative Imagination
Color: Purple
Features:
Pack of 20 Purple Spell Chime Candles
Wax with cotton wick (no metal)
Dimensions: 4 inches tall and 0.45 inches in diameter
Use for Spellwork, rituals, ceremonies, decoration, prayer, and more
Perfect refills for Altar Supply Kits
Binding: Kitchen
Details: Spell candles, also known as "chime candles," are used for spiritual prayer, spellwork, mood lighting, or decor. The color of the candle can represent many things such as a feeling, state of being, intent, and hope. Purple - Spiritual Enhancement, Third Eye, Break Bad Habits 20 candles come in this pack.
Package Dimensions: 4.6 x 3.3 x 2.4 inches