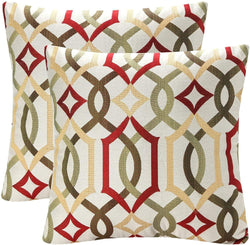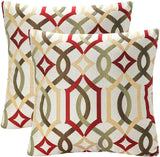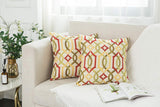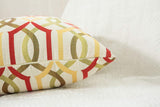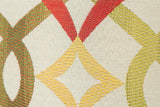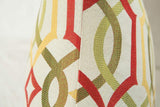 Red jacquard geometric link accent decorative throw pillow covers multicolor 18x18 cotton linen home office sofa couch decor
Red Jacquard Geometric Link Accent Decorative Throw Pillow Covers Multicolor 18X18 Cotton Linen Home Office Sofa Couch Decor
Set of 2
MATERIAL - Made of fabric with natural organic cotton linen
Use: These exquisite pillow covers can be used with your bed, sofa, car or chair of any style.
Note: Due to the manual sewing and cutting process, size errors may occur, please allow an error of 1-2 cm. Pillow inserts are not included. Pillow Covers can be used with 16 x 16, 18 x 18, or 20 x 20 inch pillows. When inserting the pillow, fold it in half and insert it slowly to avoid pulling the zipper.
Washing guide: machine washable, low temperature cleaning, separate from other items. Don't bleach.
DURABLE AND HIGH QUALITY: Cover is machine washable, comfortable & soft touch, no bleeding, fading or fraying issues.
CHILD AND PET FRIENDLY: Thanks to the material, there is no stimulation to the skin. So don't worry that these will be harmful to children and pets.
EASY TO PUT ON: Color coordinated invisible/hidden zipper closure for an elegant look, super easy to insert pillow or filler into these covers.
FEATURES: Welcome guests to your home with this unique, seasonal pillow cover. No Insert or Filler.
Size: 18 x 18 inches (45 x 45 cm); due to manual measurement and cutting, 1-2 cm error may occur.
Design: Designed for Christmas decoration. Invisible zipper.
Occasion: It can be used for Christmas party, carnivals, home decor, garden decor
You can pick up a new set of 4 18" X 18" Throw Pillows Inserts here https://etsy.me/2Tn2ef2
There are many other styles and colors of Throw Pillows in my shop as well. You can find them all here https://etsy.me/34nnYO2
Search Terms
cover for 18 x 18 pillow
Home & Living
Home Décor
Decorative Pillows
noel joy peace
jingle bells
Santa sleigh
Rudolpf red nosed reindeer
Silent Night
pillow covers 18x18
hostess gift
Christmas gift
believe Christmas
home decor
Christmas decoration
Christmas pillows
throw pillows
throw pillow cover
decorative pillow
religious pillow
Christmas Decore
Merry Christmas
Farmhouse
Throw Pillow Covers
18 X 18
TimelessThreadVegas
Invisible zipper
Christmas Trees
North Pole
Frosty
Snowman
Winter Wonderland
Christmas Theme
Blue ChristmasChristmas pillow
throw pillow
farmhouse Christmas
rustic Christmas
holiday throw pillow
Christmas
pillow cover
Christmas home decor
holiday pillow
holiday pillow cover
accent pillow
Christmas decor
holiday decor
country Christmas
burlap pillow cover
Christmas pillows
decorative pillow
modern farmhouse
pillow covers
Christmas decoration
home decor
holiday sofa pillow
Christmas gift
holiday pillow
USA Seller
U.S.A. Seller
Ships from the USA
Ships from the U.S.A
USA Seller
U.S.A. Seller
Ships from the USA
Ships from the U.S.A
quick to ship, under $100, under $75, under $50, christmas pillows covers 18x18, christmas pillows covers lumbar, cover for 18 x 18 pillow, Blue Christmas, Home & Living, Home Décor, Decorative Pillows, noel joy peace, pillow covers 18x18, hostess gift, Christmas gift, believe Christmas, home decor, Christmas decoration, Christmas pillows, throw pillows, throw pillow cover, decorative pillow, religious pillow, Christmas Decore, Merry Christmas, Farmhouse, Throw Pillow Covers, 18 X 18, TimelessThreadVegas, Invisible zipper, Christmas Trees, North Pole, Frosty, Snowman, Winter Wonderland, Christmas Theme, Blue Christmas, christmas pillows covers set, christmas pillows covers set of 4, holiday decor christmas, holiday decor pillow covers, USA Seller, U.S.A. Seller, Ships from the USA, Ships from the U.S.A.
Insanely Affordable Christmas Pillow Covers, Christmas Pillow Covers MADE IN THE USA & Starting UNDER $10.00, Christmas Throw Pillow Covers to Hide Your Old Pillows, Insanely Affordable Christmas Pillow Covers To Spice Up Your Decor, Christmas Pillow Covers for Less, Covers for Christmas, Top 5 Christmas Pillow Covers, Christmas Throw Pillow Covers Perfect for Holiday Season Decor
christmas pillow cover 18 x 18, pillow cover 18 x 18, decorative throw pillow christmas, christmas pillow set, christmas throw, holiday pillow cover 18 x 18 set, plaid throw pillow cover 18 x 18, 18 x 18 christmas pillow cover, candy cane christmas pillow, christmas pillow blue and silver, christmas pillow cover 18x18, holiday throw pillow cover with train, pillow christmas blue, snowman pillow cover, snowman pillow case, snowman pillow cover 18 x 18
WE MADE IT 2021 IS HERE
Be sure to use Discount Code TAKETENOFFANY to receive a 10% discount off your purchase from my shop. Thank you in advance for looking at my items.
Please stay safe as the New Year Begins a Renewed Celebration of Life.
For the month of January I am offering a flat 25% off ANY 1 or more items on my personal website.
www.TimelessThreadsOfVegas.com
I hope you will drop in and start saving today.
Sometimes, you just don't feel like doing your hair. I hand alter all my wigs to look realistic and convincing enough to be worn out on the town or for photo/video shoots. Suffering from hair loss? Get your confidence back with an awesome new look! A New You is Waiting With Each Custom Hand Crafted Wig I Make, Be Sure to Get Yours Today!
Shop Under Construction BUT I am adding items every day!
Follow Shop and Check Back OFTEN for NEW ITEMS!
Save 10% on ANY Purchase - ANY Day - NO MINIMUM - Please use Discount Code TAKETENOFFANY at Checkout.
Other Discounts Offered RCA-15Percent at TimelessThreadsOfVegas.com
You can also Save 10% at ASpell4U.com by applying the code SpellMe10 at my site www.aspell4u.com
Thank You for your support of ALL Small Businesses in this time of Crisis including mine. May the Country Recover Soon!
Need your order a bit sooner?
We can't guarantee this over Christmas as we are ALL at the Mercy of the Post Office.
* PRICE (DOMESTIC )
$11.00 for Domestic U.S.
Priority Mail is in addition to the regular shipping charge, not a replacement for it.
Priority Mail Upgrade Can be added to ANY ORDER using the link below.
https://www.etsy.com/listing/929885943/priority-mail-upgrade?ref=listing_published_alert