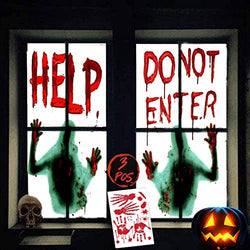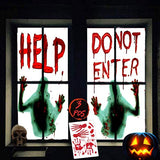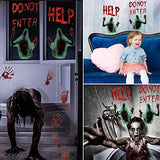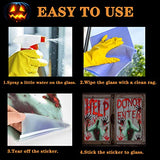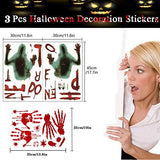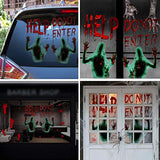 Halloween Window Door Decoration Cover Set
 3Pcs Halloween Window Door Decoration Covers Set,Scary Halloween Decorations, Includes 2Pcs Halloween Window Clings and 1Pcs Bloody Hand prints Sticker, Halloween Party Decorations
Features:
【SCARY ZOMBIE DESIGN FOR YOUR HALLOWEEN】The realistic 3D bloody zombie handprints and shadowy figures with bloody written "HELP US, DO NOT ENTER "create a horrible atmosphere for your Halloween. There will be spooky realistic effects on window and make your house unique and scary.Our halloween window clings will make your Halloween party more impressive.
【HALLOWEEN DECORATIONS SUITABLE FOR VARIOUS PLACES】Halloween window decorations create an unforgettable entrance for houses, garages, porches, school dormitories, and people who walk through windows or doors will be scared. Scary Halloween decorations are perfect for walking dead, zombies, haunted houses, monsters or Halloween theme party decorations. The kids will love it!
【SUITABLE FOR MOST DOORS AND WINDOWS】Our Halloween window clings can be adjusted according to the size of the window.Includes 2PCS zombie decorations (printed with HELP and DO NOT ENTER) and 1 PCS bloody hand prints sticker .From the inside during daylight hours it looks like a bloody people is outside trying to get in. From the outside at night with a light inside it looks like a bloody people is inside trying to get out.
【EASY-TO-USE HALLOWEEN WINDOW STICKERS】The Halloween decorations clearance are made of lightweight, durable plastic.When using, first wipe the windows/doors/walls/windows with a rag, and then paste them.When not in use, just tear it off and reuse it.Besides,our Halloween door decorations are waterproof material, so you can use it on the bathroom door or outdoors.
Details: Do you want your house to be full of Halloween atmosphere? You will not regret choosing our Halloween door/window decoration! ➤Realistic 3D horror effect-Our Halloween window clings with backlit effects are creepy and will definitely add a strong atmosphere to your house. ➤Waterproof and reusable-Halloween window decorations are made of lightweight and durable materials and can be used multiple times. ➤DIY stitching-Halloween decorations can be adjusted according to the size of the window. ➤Suitable for many occasions-Halloween decorations clearance are suitable for Halloween party, school carnival and haunted house decoration. How to use: ① Make sure the surface is smooth. ② Clean the surface to remove dust and/or grease. ③ Peel the Halloween window clings from the sheet and apply it onto the surface.circumstances can be reused, as long as no tear. Package Included: -2 x Halloween Haunted House Decoration Window Door Covers(23.6in*17.7in/60*45cm) -1 x Bloody Hand prints Sticker(13.8in*10in/35*25cm)
Package Dimensions: 17.7 x 11.9 x 0.2 inches