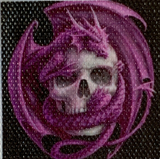 Purple Dragon Wrapped Skull Full Drill Square Diamond Painting 12 x 12 Inch
BRIGHT AND VIVID COLORS: The painting is very vibrant with vivid colors that will not fade over time.
MATERIAL: Canvas, round resin diamond, painting mud, Environmental hot melt adhesive paste is sticky enough to pick the gems up.
The painting canvas is waterproof and has a sticky background so that you could easily complete the picture.
A LOT OF FUN: You can spend a special night with the family to DIY the diamond painting, This is a very addictive product. Even if you have no basis for painting, this craft is easy to learn.
SPECIAL AND UNIQUE GIFT - The diamond painting is a special and unique gift that is sure to be cherished by all
CONTAINS EVERYTHING NEEDED TO START - The package will come with all the tools needed to complete the diamond painting and a extra 20% more diamonds to ensure you have more than you need., except to the most practiced eye.
What is inside the DIY DIAMOND PAINTING KIT?
✔ High-Quality Canvas with the design printed with color/symbol codes finished with a coating of high strength adhesive.
✔ Resin Rhinestone " Diamonds " in small individually separated color packets in the required quantity to fill the design (larger size canvas will have more colors).
✔ Pen applicator with a soft grip to pick and place diamonds on the canvas.
✔ Tray with grooves to pour and sort diamonds and pick them as single or multiple diamonds.
✔ Wax Glue is filled in the pen nib to make it easy to pick up the diamonds from the tray.
If this is your first project be sure to READ the detailed HOW-TO-INSTRUCTIONS to get started with this Awesome New Hobby.
Craft lovers all over the world love this new innovative hobby "DIAMOND PAINTING " - a fusion of traditional Cross Stitch and Paint By Numbers.
YOU DON'T NEED ANY ARTISTIC OR SEWING SKILLS!!
UNWIND AND RELAX
Diamond painting hobby lovers vouch for this stress buster and anxiety-reducing activity. Switch on your favorite music or podcast and feel the calmness engulf you.
Have you ever painted with diamonds?
DIY diamond painting is fast becoming one of the most popular activities in the world.
I'm sure you will love it.
Package Includes:
☆ High printing canvas
☆ Colorful round diamonds
☆ diamond tray
☆ point diamond pen
☆ painting mud
DIY diamond painting steps:
1. Open the packaging and take out the canvas, diamond and tools.
2. Check the code number of diamonds and the corresponding symbol.
3. Stick the diamonds on the corresponding symbol of the canvas by the pen or tweezers until you finish it.
4. After all the symbol areas are stuck with diamonds, put some books on top ,let it more firmly.
5. Congratulations, you can go framed up and decorate your home now!
Notes:
1. Do NOT expose the too much-unfinished area of canvas in case of viscosity reduction.
2. Keep your hands and the canvas clean & dry.
3. To avoid creasing, do NOT fold the canvas.
4. Keep the rhinestones away from children under the age of 5 to avoid being swallowed by them accidentally.
Painting by Diamonds, Diamond Painting, painting by diamond, 5d diamond painting, Diamond art kit, painting by number, diamond dotz kit, Patterns & How To Kits, Craft Supplies & Tools, Diamond Mosaic Kit, diy hobby kit, crystal canvas kit, high definition oil canvas, Colorful round diamonds, diamond tray, diamond pen, painting mud,