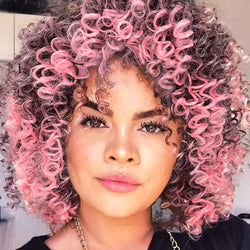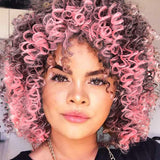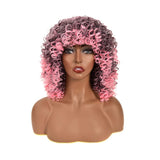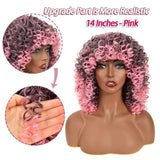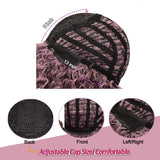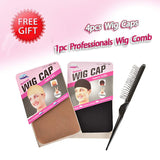 Pink and Black Ombre Synthetic Short Curly Wig Full Kinky Curly Afro Hair Wig with Bangs (Free 1pc Professional Wig Comb and 4pcs Wig Caps)
💋 Pink and Black Ombre Synthetic Short Curly Wig Full Kinky Curly Afro Hair Wig with Bangs (Free 1pc Professional Wig Comb and 4pcs Wig Caps)
💋 Wears easily, Saves Pruning Time. To reduce the workload of pruning for bigger, thicker and heavier units, We adjust the curl size of this short curly wig in the premise of guarantee natural and fullness and lightweight human hair feel. (Curly wig: weight: 240g, length: 15" in curl style.) You will have more time to enjoy it.
💋 The Upgraded Curl Process is More Natural. Improved curl extension of curly wigs will be close to the elastic feature of human hair. The short curly wig is not like the ridiculous tight curly wigs of Halloween.
💋 Premium Material This curly wig is made of heat resistant synthetic soft, odorless, not allergic and natural. The unit is very comfortable when you wear it. (Gift: 1pc Professional Wig Comb and 4pcs Wig Caps.)
💋 Adjustable Size, Suit Most People. The size of curly wigs is M (about 21.5"-22"), and there are two adjustment straps in it, you can adjust it to your best size. NOTE: The unit on the model has been styled.
💋 Wearing Occasion. You are able to wear this curly wig for concerts, theme parties, weddings, dating and also for daily wearing . You will get a realistic and natural looking unit that you can style to your liking.
Shoulder Length, Jerry Curl Afro, Synthetic Wig with Bangs, Spring Curls, Daily Use, Heat Friendly, Daily Wear, Ready to Wear, Heat Resistant, Hair Care, Wigs, Top Quality Wig, Cosplay, Cross Dress, Human Hair, Custom Made Wig, Custom Dyed, lace wig, natural wig, wavy wig, wigs for women, frontal human hair, Hair Extensions, Long Curly Wig, Curly Wig, real human hair, European Hair, African American wig, Curly black wig