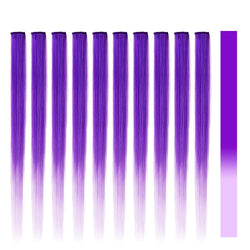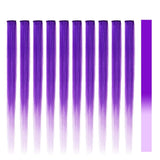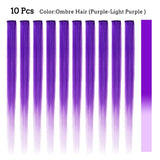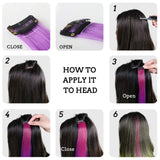 Ombre Purple Clip in Hair Extensions Set of 10 - 20" Party Highlights Synthetic Multiple Color Hairpieces Purple to Light Purple Lavender
Ombre Dark Purple to Light Purple Lavender - Instant 'Highlight' Mix with Your Own Hair.
Custom Hand Crafted Design Perfect for Raves, Music Festivals, Concerts, Clubs, Holidays, Parties and Everyday Wear.
MATERIAL - High Quality Synthetic Heat Resistant Fiber Feels like Real Human Hair.
SAFETY - Does not Contain any Chemical Dyes, Damages Hair and Health, No tangles, No shedding, No Odor, Very Comfortable to Wear all Day
VERY EASY TO USE - Easy to Wear and Remove, Clip-on Straight Hair Extension with Each Clip. A Completely New Fashion Style.
Material: 100% High Temperature Synthetic Fiber with a snap clip. It looks real, you can redesign it with scissors and hair curlers.
Design: Seamless front design, thin and invisible; back metal clips design, easy to attach and remove.
Feature: Easy to DIY your own fashion hair style. Bright and funky colors are fun addition for causal dress up.
A gift to experiment with color without having to do any permanent dyes.
The Best Choice: without any chemical dye to damage your hair & health.
Great using for daily hair beauty, birthday party, theme party, Halloween costume.
A perfect item as gift or adornment
Light weight and natural look, Very easy to use, just clip it on hair
Safety, without any chemical dye to damage your hair & health
Easy to use. Clip-in curly hair extensions, each with a separate clip.
Each hairpiece has an individual package, which avoids them banding together or tangling up.
Perfect to use for daily dress up, costume party, cosplay, unicorn themed party, gift, little pony party, or any casual events.
Things to avoid with hair extensions
1. Don't bleach or lighten your extensions.
2. Don't wear your extensions to swim in, this will tangle them and dry them out.
3. You can curl or trim them to DIY your own hair style. But it is not recommended to use hot iron. If you need a perm, the temperature must be controlled within 180 degrees Celsius.
4. Be sure to take your extensions out before going to bed, carefully clip by clip to avoid damaging your own hair.
Sometimes, you just don't feel like doing your hair. I hand alter all my wigs to look realistic and convincing enough to be worn out on the town or for photo/video shoots. Suffering from hair loss? Get your confidence back with an awesome new look! A New You is Waiting With Each Custom Hand Crafted Wig I Make, Be Sure to Get Yours Today!