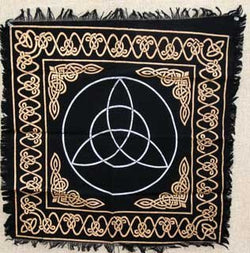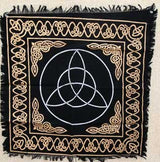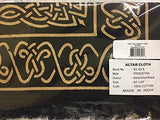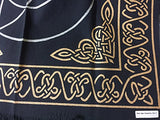 Altar Tarot Cloth: Triquetra 24 x 24" Gold Silver Triquetra Charm Design Black
Brand: New Age Imports, Inc.
Color: Black
Features:
Size: 24" by 24"
Heavy 100% Cotton with fringed borders.
Silver & Gold handprinted on black 100% cotton cloth
Product by New Age Imports, Inc.
Washing Instructions: Hand wash separately in cold water & air dry.
Binding: Kitchen
Details: This charming cloth, is perfect for the medium sized table or altar. A silver triquetra gold Celtic border boldly jump off of the black background, instantly catching ones eye. The edges of this cloth are tasseled, extending beyond its overall width of 24 inches. Size is 24" by 24". New Age Imports, Inc.
Package Dimensions: 13.6 x 5.7 x 0.5 inches