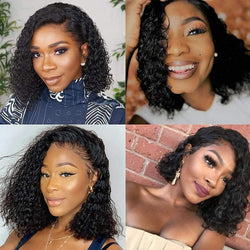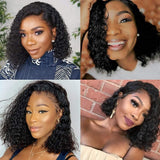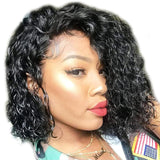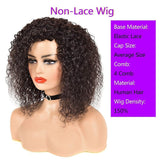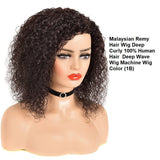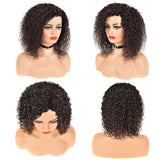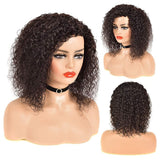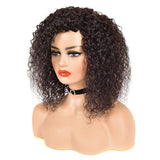 Natural Black Shoulder Length, Malaysian Remy Hair Deep Curl Wig, 100% Human Hair Wig, Daily Use Style as Your Own Hair, Natural Black #1B
Natural Black Shoulder Length, Malaysian Remy Hair Deep Curl Wig, 100% Human Hair Wig, Daily Use Style as Your Own Hair, Natural Black #1B
Color Natural Black
Hair Type Short Kinky Curly with no shedding and tangle free
Material 100% Malaysian Deep Wave Human Hair
Kinky Afro Synthetic Heat Resistant Natural Full Wig Perfect for Daily Wear and Cosplay
100% Brand New High-Quality Human Hair
Hair Density: 150% Density
Hair Length: As Pictured
Hair Color: Natural Color
Lace Color: Medium Brown
Cap Size: Average size (about 21.5"-22') with two adjustment straps and four combs
Advantages: 100% human hair, Glueless machine wig, Natural and Healthy, No Shedding and Tangle-free, Soft and Bouncy. Breathable material With proper maintenance unit will last you a long.
Cap Construction is designed with Flexibility and ensures all day comfort to the wearer
Perfect for your to wear for daily use, costume, theme parties, concert, wedding, theater, dating, cosplay, or any other occasion. It is gorgeously beautiful, has a tight fit to ensure it won't move around on your head. Every woman needs this in her wig closet.
You have chosen One of Our Best Sellers in Our Huge Selection of Custom Made Wigs
Hair Texture Full and thick Synthetic Heat Resistant Wig that is bouncy and holds it's curls well.
Cap Size 22 inches with adjustable straps to fit most of head sizes.
Features
1. Easy to wear. No glue needed.
2.Natural looking and soft to the touch.
3.Healthy and fluffy, minimal shedding and tangle-free.
4.Easy to wash and care for.
When you receive your new wig, just shake it lightly and it will bounce back to it's original condition.
Browse the rest of the shop and you will find Amazing Discount Up To 70% Off!
A Huge Selection of Custom Made Wigs Including Lace Wigs, Remy Hair, Virgin Hair, Weaves, Braids, Hair Pieces, Wigs with Airy and Curtain Bangs, Extension and SO MUCH MORE.
I include a wig cap with most wigs, but if you would like a couple of extras - you can find a selection of colors here http://etsy.me/3ql2VnE The price is $3.99 for 2 caps in your choice of colors.
As a Special offer of Love from me a Discount Code of TAKETENOFFANY will be applied at checkout as a Thank You for your support of ALL Small Businesses in this time of Crisis including mine. May the Country Recover Soon!.
Create the Perfect Trending Hairstyle in under 30 minutes with a Quick Wig from Hair On Fire Wigs.
If you are suffering from hair loss or thinning hair - get your youthful look back with one of our Gorgeous Locks
EXCLUSIVELY OFFERED on Etsy and my Personal Site - ASpell4U.com
Save $10.00 with FREE SHIPPING on my Personal Site by using code "etsy" at Checkout - ASpell4U.com
NO MINIMUM PURCHASE REQUIRED.
Wash and condition once a month
How to Wash?
STEP 1: Mix cool water with wig shampoo in a sink or basin. Soak your wig for five minutes, or a little longer depending on how soiled it is. Never rub, twist or wring it.
STEP 2: Gently dip it up and down in the water. If there are makeup stains on the cap, clean them gently with a small brush (like a toothbrush).
STEP 3: Rinse your wig gently but thoroughly in cool water.
STEP 4: To condition your wig, refill your sink or basin with clean, cool water.
Add one or two capfuls of conditioner to the cool water.
Immerse your wig in the conditioner solution, gently working the solution through the wig with your fingers.
STEP 5: Rinse your wig again gently but thoroughly in cool water.
STEP 6: Pat the excess water out of the wig with a towel.
Hang your wig loosely on a wig stand to dry at room temperature.
Also, never comb a wet wig or dry it with a blow dryer.
Air drying takes only a few hours and ensures healthy-looking results.
Drag Queen Wigs, Drag Queen Hair, Drag Wigs, Drag Hair, Custom Drag Wigs, Drag Performer Hair, Drag Performer Wigs, Drag Wigs, Drag Queens, Trendy Wigs, Custom Styled Wigs, Stage Performer Wigs, Cosplay Wigs, Anime, Cosplay, Masquerade, Daily Wear, party, fancy dress, Holidays, Role play, Night Out, Cosplay, Fashion, Special Occasion, Lolita Wig, Daily Wear, Top Quality Wig, Ready to Wear, Human Hair Feel, Custom Made Wig, Heat Resistant, LARP, Cosplay Wig, Cross Dresses Wig, Drag Queen Wear, Stage Performer Hair,