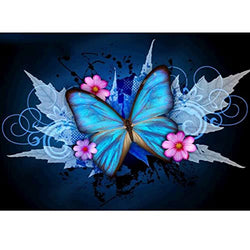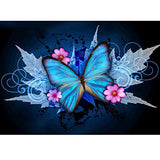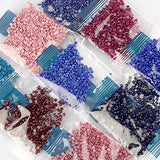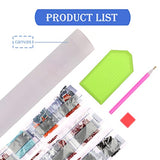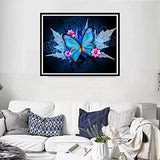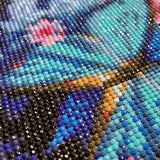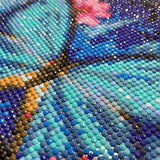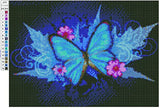 DIY Diamond Painting Neon Blue Purple Black Maple Leave Butterfly 5D Cross Stitch Full Round Diamond Embroidery Kits Home Decor 12 x 16 Inch
VIVID DIAMOND PAINTING CANVAS: This high clear rhinestone painting canvas is flat, waterproof , environmental and super sticky. And the symbols are easy to read. With vibrant reflective diamonds, the finished diamond painting project is extremely vivid and never fade.
RELIEVE STRESS AND BEAT BOREDOM: Do away with the daily stresses, beat boredom of everyday life and light up your room! This is diamond painting, the trending new DIY arts & crafts hobby that lets you easily create gorgeous art that shimmers and sparkles. The hours fly by as you channel your creativity into a stunning finished artwork.
PACKAGE CONTENTS: Vivid and premium quality canvas art template, extra reflective diamonds matched to the canvas color codes (in separate bags), a diamond painting pen tool to pick up diamonds, a plastic tray to hold the diamonds and wax to insert in the pen tool.
PERFECT GIFT AND WALL DECORATION: Give the diamond painting kits or a completed diamond art painting as a gift to family and friends to brighten their home and bring a smile to their faces. It can be used to decorate your living-room, bedroom, office, restaurant, bar and any other spaces. Your diamond art masterpiece will light up any room.
Lost on the perfect personal gift of Sending Love to that Special Someone in your life?
Send a Beautiful Care Package today of a 5D Diamond DIY painting that will offer them hours of enjoyment as they create a personal work of art that was hand selected for just them by you.  
Unlike Adult Coloring Books - these creations offer hours of personal relaxation and can be framed and hung on the wall to enjoy for years to come. 
5D Diamond custom prints, extra large art, living room art print, living room wall art,


Diamond painting is easier than cross stitch and more beautiful. It's easy for anyone without knowledge of drawing to fulfill a classic artwork. So enjoy making it!