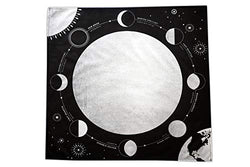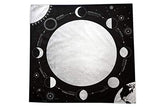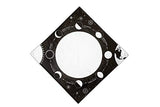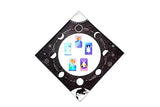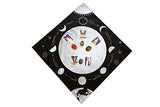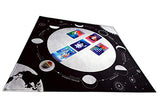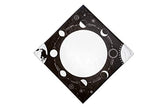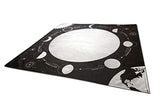 Moon Phases Altar Tarot Cloth, Large 24 Inches x 24 Inches
Brand: Hidden Crystal Tarot
Features:
✔️ BEAUTIFUL NEW DESIGN: Set the mood and enhance your altar or tarot card reading on this unique, new design that draws on the energy of the moon.
✔️ OUR QUALITY: Luxurious short velvet feels plush against your skin and cards, and is the perfect texture to make sure your cards don't move.
✔️ FREE TAROT SPREAD INSERT: Enjoy an easy-to-follow infographic with six of our favorite tarot spreads tucked into your package.
✔️ POSITIVE ENERGY: Amplify your reading by laying out your cards on the textured moon and call on focused guidance during all of its phases.
✔️ LOVE YOUR CLOTH: As hard as we try to make things perfect, sometimes there's a misprint we missed or you just don't love the cloth in person. For any reason, please contact us and we'll make it right. We'll send you a new one or refund your money. We want you to love your new tarot cloth.
Binding: Kitchen
Details: Click add to cart right now and order yours today. The planets border surrounds your cards with the power of our universe. Designer Thoughts: The moon has so much influence over our bodies and universe, so we wanted to pay homage to it in all its phases with this cloth. Including small reminders within the design is an easy way to keep track of the flow of the moon and how we can connect with it naturally. My favorite way to use this tarot cloth is to read my tarot spread on the large, center moon and then draw an extra card to place on the current phase of the moon to tie it all together. That's provided me a lot of insight. Fabric: Our cloth is made out of a plush 200 gsm short velvet fabric (100% polyester). The front is black with a gold design, while the back is white. We've hemmed the edge to make sure it will last for your tarot reading journey. Item ships folded. Cleaning: We suggest that you hand wash it with care and love, and hang it to dry. But we specifically chose this fabric because of its durability. You can machine wash it with cold water, then tumble dry on the low setting. If you do iron your tarot cloth, please iron it on the white/back side and use an extremely low iron setting. *Please note that the listing is for the cloth only. Any props used in the photos are to demonstrate how we've used the tarot cloth ourselves. Dreamt up in Los Angeles, created in China
Package Dimensions: 6.4 x 6.1 x 0.8 inches