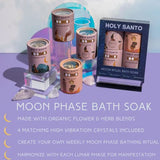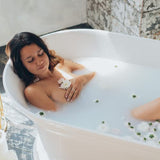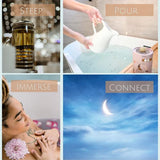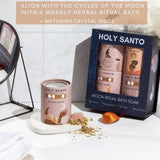 Moon Phase Organic Bath Soak with Dried Herbs and Flowers
Moon Phase Organic Bath Soak with Dried Herbs and Flowers, Lavender, Rose Petals, Eucalyptus- Ritual Bath Accessories with Crystals for Relaxation. Stress Relief and Self Care Gifts for Women
SOOTHE YOUR SOUL with spiritual bath herbs. Holy Santo's ritual herbal bath soak set is meant to be a transcendent guide through each restorative phase of the moon

TREAT YOUR SENSES to You Time in a bath soak with flowers and an orchestra of fragrance. From soothing chamomile, jasmine, our lavender bath tea bags and more, each herbal soak is a love letter to stress release

INCLUDES CRYSTALS! Each paper jar of bathing tea comes with a companion energy crystal. Set those goals and use for a spirit and skin cleansing full, new, waning or waxing moon bath

GIFT AN EXPERIENCE like no other. More than just a tea bath set or spa gift set to unbox. The benefits can help bring about lasting spiritual healing that's unforgettable. Pairs great with essential oils and Epsom salt

CRAFTED IN THE USA, made with USDA Organic Herbs and a lot of love. Brew our bathtub tea for the next lunar cycle and slip into herb bath euphoria.