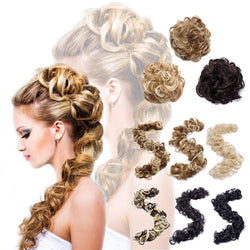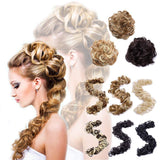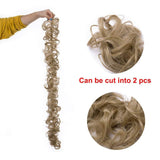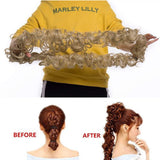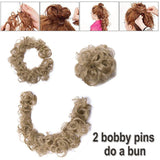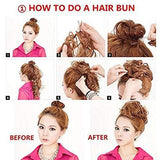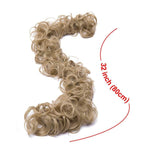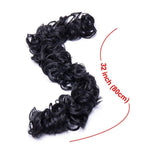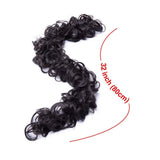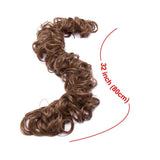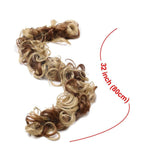 Messy bun juva bun hair scrunchie fluffy curly tousled updo diy wrap around ponytail hairpiece 32inch wavy donut chignons
Messy Bun Hair Piece Juva Bun Hair Scrunchie Fluffy Curly Tousled Updo DIY Wrap Around Ponytail Hairpiece 32inch Wavy Donut Chignons
32inch (80cm) long with elastic rubber band: long enough to make a ponytail, and also can be cut into 2 pieces to make two bun. Can be repeatedly used.
Kindly Tips: you should prepare at least 2 bobby pins to fix the hairpiece into your own hair bun or ponytail. Pins are not included in the package.
Charming Magic Hairpiece: can do a hair bun, make a side ponytail of high ponytail, or any other DIY styles you could think of.
Heat resistance synthetic fiber: completely natural, not shiny, soft and comfortable to wear.
Washable but do not use curling irons, blow dryers, or hot styling instruments.
USA Seller
U.S.A. Seller
Ships from the USA
Ships from the U.S.A
Every woman needs this in her wig closet TODAY!
WE MADE IT 2021 IS HERE
Be sure to use Discount Code TAKETENOFFANY to receive a 10% discount off your purchase from my shop. Thank you in advance for looking at my items.
Please stay safe as the New Year Begins a Renewed Celebration of Life.
For the month of January I am offering a flat 25% off ANY 1 or more items on my personal website.
www.TimelessThreadsOfVegas.com
I hope you will drop in and start saving today.
Sometimes, you just don't feel like doing your hair. I hand alter all my wigs to look realistic and convincing enough to be worn out on the town or for photo/video shoots. Suffering from hair loss? Get your confidence back with an awesome new look! A New You is Waiting With Each Custom Hand Crafted Wig I Make, Be Sure to Get Yours Today!
Shop Under Construction BUT I am adding items every day!
Follow Shop and Check Back OFTEN for NEW ITEMS!
Save 10% on ANY Purchase - ANY Day - NO MINIMUM - Please use Discount Code TAKETENOFFANY at Checkout.
Other Discounts Offered RCA-15Percent at TimelessThreadsOfVegas.com
You can also Save 10% at ASpell4U.com by applying the code SpellMe10 at my site www.aspell4u.com
Thank You for your support of ALL Small Businesses in this time of Crisis including mine. May the Country Recover Soon!
Create the Perfect Trending Hairstyle in under 30 minutes with a Quick Wig from Hair On Fire Wigs.
If you are suffering from hair loss or thinning hair - get your youthful look back with one of our Gorgeous Locks EXCLUSIVELY OFFERED on Etsy and my Personal Site - ASpell4U.com
Please take advantage of my current discount offer -
On Etsy use code TAKETENOFANY for a 10% Discount at Checkout. Then head over to my Personal Site - ASpell4U.com
for an ADDITIONAL $10.00 Savings with FREE SHIPPING by using code "etsy" at Checkout. NO MINIMUM PURCHASE REQUIRED.
Need your order a bit sooner?
We can't guarantee this over Christmas as we are ALL at the Mercy of the Post Office.
* PRICE (DOMESTIC )
$11.00 for Domestic U.S.
Priority Mail is in addition to the regular shipping charge, not a replacement for it.
Priority Mail Upgrade Can be added to ANY ORDER using the link below.
https://www.etsy.com/listing/929885943/priority-mail-upgrade?ref=listing_published_alert