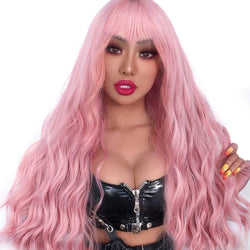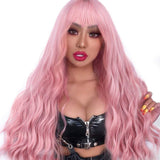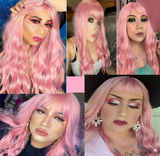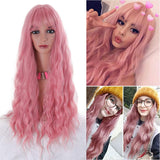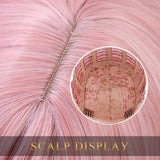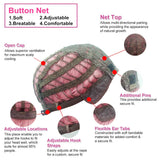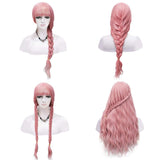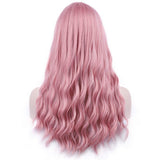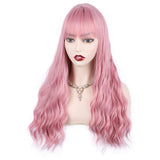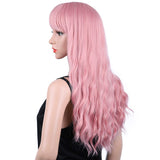 Trendy Wigs Gorgeous Fashion Goddess Pink Wig with Bangs
Gorgeous Fashion Goddess Pink Wig with Bangs long wavy wig, natural human hair feel hairline soft and comfortable to wear.

It has the most natural and authentic design and looks a lot like human hair. You will be surprised by the praise and confidence it brings!

Made of the best high-quality heat-resistant synthetic fiber material.
I use only The Top Quality Heat Resistant Synthetic Fiber in construction of all my units.

The unit is constructed to Feel like human hair and scalp. Netting is Adjustable and breathable rose net 20.5"- 24.5" with two adjustment straps that can be interwoven into a fixed position to accommodate different head sizes, providing comfort for all day wear.

With proper care and maintenance can be used for a long time.

Skin-friendly, silky, super soft, and will not be easily tangled. Lightweight and easy to wear, a new style that saves time.

The magic of a wig is that it can make you more gorgeous and sexy without wasting hours of effort and damaging your worn hair. This is a perfect hairstyle, you deserve it!

Artificial wigs are attractive in color, suitable for people of all skin colors and ages.
Wigs are very suitable for all occasions, whether it is daily work, weddings, parties, concerts, role-playing, theme parties, Halloween or daily life, video shooting, or wearing, it is your best choice!

Custom Dyed and Trimmed by hand so that it falls naturally across your shoulders and down your back.
She is 26 inches Long - give or take an inch due to Manual Measurement and Hand Alteration.
The unit is a Wavy Heat Resistant Synthetic Fiber that is perfect for Daily Wear.

Length is 26" +/- Weight is approx 8 Ounces, Density is about 150% of normal hair.
Natural looking and soft to touch.
Perfect choice for Daily Wear, party, fancy dress, Holidays such as Halloween, Role play, Etc.