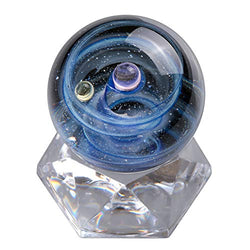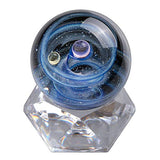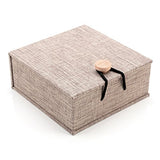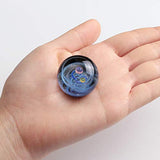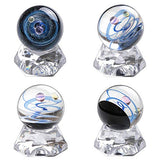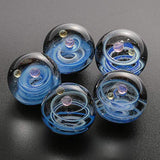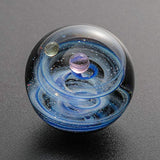 Jovivi Universe Galaxy Space Lampwork Glass Ball Sphere Sculpture Figurine with Acrylic Stand,Unique Special Cosmos Design Series Nebula Ribbon Double-Planet
Brand: Jovivi
Color: #1 Universe Galaxy Space Lampwork Glass- Double Planet
Features:
Flawless Design - Double-Planet: the smaller core ball is made of special lampwork glass. Stars and orbits: those particles and strings are specially designed and made of precious metals like silver. Galaxy Ball has a fabulous three-dimensional interior design and takes on various aesthetic looks in different lighting conditions.
Size for glass ball is approximately 1.2"(30mm);Package Dimensions: 10.3cm*10cm*4.4cm. Material: Lampwork Glass;Quantity:1 PC(comes from a Plastic stand);Weight is approximately 55 grams
Unique Beauty - Natural Glass Crystal Ball Sphere, every single one is unique! This is not only a decor gift, but a beautiful work of art. 360-degree glittering beauty, terrific and perfect.
Sphere-shaped Glass Ball fit perfectly in yourhands, making them great for meditation, massage, self-reflection, or as a goodluck charm. perfect for feng shuior simply for home decor display purposes. Experience the magic and natural beauty of natural crystals in your home.
Spheres send energy in all directions. They help to facilitates smooth communication in group settings. Smaller spheres are excellent for holding during meditation, while large ones can be placed in front of you. Crystal balls are popular for scrying and visual meditation, allowing you to gaze into the past, present, and future.
Binding: Kitchen
Details: JOVIVI Natural Glass Crystal Ball Divination Sphere, specially designed and carefully handmade, every single one is unique, only to meet the right you!
Each glass is handmade by experienced craftsman. While you get the galaxy glass ball sphere, you will find out it is more beautiful than the picture at any angle.
High-quality glass was melted and reshaped under an extremely high temperature of 3600 degrees Fahrenheit.
All those beautiful and intricately placed particles and strings are from hand work.That's why no one is the same as another one.That's what makes it unique.
Natural Glass can also be a one-of-a-kind decoration on your desk.
Such a gorgeous thing to keep aside, won't your every moment be more beautiful and pleasant!
Come in an exquisite gift box, ideal gift for special day. It will be a great surprise for the one you love.

──JOVIVI universal glass will be the best collection in your lifetime.

Specifications
Material: lampwork glass
Size: diameter 1.18 in (handmade products, each one may have a small difference)
Weight: 55grams without packaging (handmade products, each one may have a small difference)
Package: Natural Glass Ball, Acrylic Stand, and a jewelry box and Jovivi Black Velvet Pouch!
Function: desk decoration, for self-use, gift for families, friends, lovers and everyone, men or women, boys or girls.

Package Dimensions: 4.2 x 4.1 x 1.9 inches