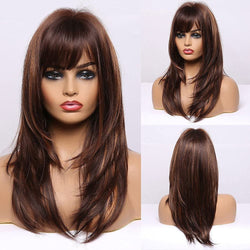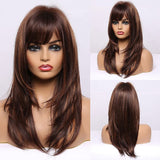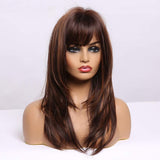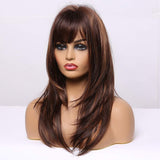 Highlight Brown Layered Synthetic Wig with Curtain Bangs Long Flowing Ombre Carmel Mixed Shoulder Length Heat Resistant FAUX Human Hair Wig
SPECIAL OFFER
Take $5.00 OFF Your Purchase
IMMEDIATELY HERE ------>
https://www.etsy.com/shop/TimelessThreadsVegas?coupon=TAKE5NOW
❤Highlight Brown Layered Synthetic Wig with Curtain Bangs Long Flowing Ombre Carmel Mixed Shoulder Length Heat Resistant FAUX Human Hair Wig
❤PRODUCT INFORMATION
Material: 100% Synthetic Human Hair Feel Wig
Color: Brown Layered Synthetic Wig with Curtain Bangs
Hair Style: Slightly Wavy
Weight: Approx. 200g
Density: 150% (Extra thick as in images)
Hair Length: 24 Inch +/-
Search Terms
Drag Queen Wigs, Drag Queen Hair, Drag Wigs, Drag Hair, Custom Drag Wigs, Drag Performer Hair, Drag Performer Wigs, Drag Wigs, Drag Queens, Trendy Wigs, Custom Styled Wigs, Stage Performer Wigs, Cosplay Wigs, Anime, Cosplay, Masquerade, Daily Wear, party, fancy dress, Holidays, Role play, Night Out, Cosplay, Fashion, Special Occasion, Lolita Wig,
USA Seller
U.S.A. Seller
Ships from the USA
Ships from the U.S.A
Every woman needs this in her wig closet TODAY!
Create the Perfect Trending Hairstyle in under 30 minutes with a Quick Wig from Hair On Fire Wigs.
If you are suffering from hair loss or thinning hair - get your youthful look back with one of our Gorgeous Locks EXCLUSIVELY OFFERED on Etsy and my Personal Site - ASpell4U.com
Please take advantage of my current discount offer -
On Etsy code TAKETENOFANY will be AUTOMATICALLY applied at Checkout for a 10% Discount.
Then head over to my Personal Site - ASpell4U.com
for an ADDITIONAL $10.00 Savings with FREE SHIPPING by using code "etsy" at Checkout. NO MINIMUM PURCHASE REQUIRED.