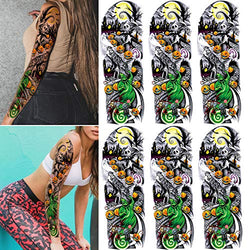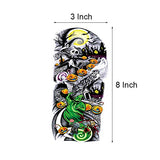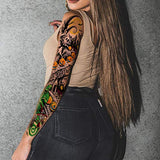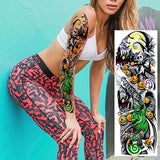 Jack Skellington Nightmare Before Christmas Large Full Arm Tattoos Sleeve, 6 Sheet
Details:
Temporary Tattoos are printed using high quality water transfer paper which are non toxic, contain no PPD and are 100% cosmetically skin safe.
Temporary tattoos are great for parties, festivals, club nights/raves, carnivals, fancy dress or just to shock your friends without committing to a real tattoo.
May not be suitable for sensitive skin types. Avoid contact with eyes.
How to Apply a Temporary Tattoo
Cut around your tattoo design leaving 2mm.
Ensure the skin is clean and oil free (no hair is good too).
Peel the clear plastic backing off your tattoo.
Apply the tattoo to your desired area with the design facing your skin. Using a damp cloth or sponge saturate the backing paper completely.
Apply moderate pressure to the tattoo for 30 seconds.
Peel back the backing paper and slide off and the tattoo will have transferred.
Rinse with water and allow to dry.
***Remove using baby oil, alcohol or soap and some elbow grease.
Top Tips for Temporary Tattoos
Cover your new temporary tattoo with talc - This reduces the shine, makes it look more realistic and stops lint from clothing and bedding sticking.
Temporary tattoo sleeves can be cut in half to apply the top and bottom which makes for a better result in some designs.
Try to avoid fold in arms and hairy skin.