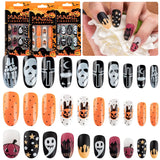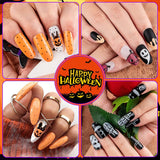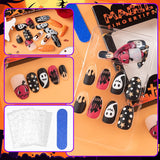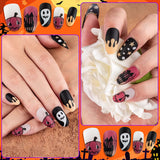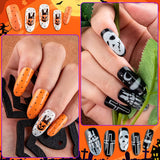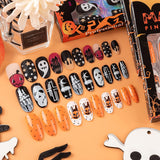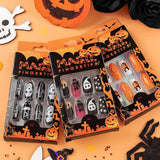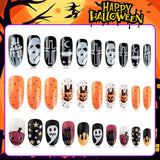 Halloween Press on Nails, Gothic Skull Cross Black False Nails Orange Pumpkins Reusable Glossy Halloween Fake Nail Designs 72 Piece Set
Show Confidence & Charm on Halloween Look no further than these Halloween nails for inspiration! These Halloween fake short fingernails are widely applied for professional salon or individual use, suitable for both beginners and nail artists. Meanwhile, the Halloween press on false nails are suitable as gifts for female.

Fun Addition for Costume Let's pulls off a showstopper! The acrylic full cover Halloween nails have different patterns design related to Halloween, including lots of classic Halloween elements: pumpkin, spider, ghost and so on, which will help you feel the festive atmosphere more intimately.

Go Above & Beyond on Halloween You just need to clean your natural nails and choose the appropriate size of Halloween faux nails, then apply glue evenly on the nail tips and press them on your nail for about 5 seconds, finally your nails will be more natural.

Be Halloween-ready These Halloween artificial press on nails are made of high-quality material which can last weeks, but won't cause any discomfort to your nails or skin. If stored properly, these fake short fingernails can be used indefinitely.