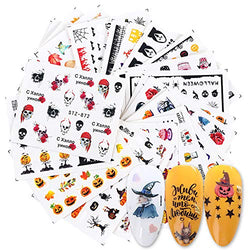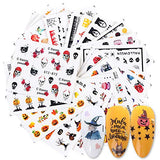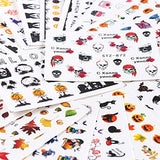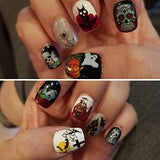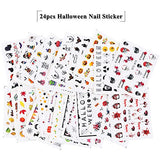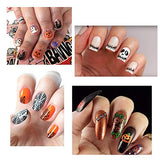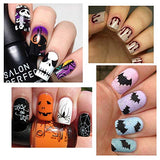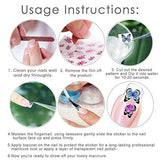 Halloween Nail Art Stickers, 24 Sheets Water Transfer Nail Decals
Features: Halloween Nail Art Stickers: 24 Sheets Colorful Halloween Nail Art Stickers Halloween theme stickers: you will receive 24 sheets of Halloween theme nail decals. Cute patterns nail stickers in various Halloween theme images will decorate your nails more adorable

Multiple design:  assorted nail decal stickers in line with Halloween style, like pumpkins, bats, ghosts, skulls, witches, etc. full of festival feeling and add more funny atmosphere, offer you multiple choices and allow you to use your rich imagination of nail DIY

Self-adhesive: these pumpkin ghost skull witch stickers are self-adhesive, easy to operate even for nail art learners, just peel and stick it on your own nails; You can also use nail gel to cover to make the stickers last longer

Safe material: the self-adhesive nail tattoo is made of durable PVC material, which is non-toxic and has no peculiar smell, do no harm to your own nails, reliable enough for long-term use

DIY chic nail art: Halloween nail art self-adhesive stickers are nice to create your awesome Halloween nail designs, and help you enjoy your Halloween Day;
It is also fun to design adorable nail art styles for your family or friends, show your charming nails together

with different kinds of patterns are vibrant and pretty, work great on bare nails, full of personality that will make your nails shining and attractive.
These nail art stickers are the perfect Halloween fashion accessory. Includes all sorts of classic Halloween-style images: pumpkins, bats, ghosts, candy, skulls, witches, cats etc.
How to use:
1. Trim, clean and polish the fingernails thoroughly.
2. Cut out the desired pattern roughly, remove the film and dip it into water for 10-20 seconds.
3. Wet your nails then gently place the sticker to nail surface by tweezer and press firmly.
4. Dry up the excess water with a paper towel.
5.Finished by put on the topcoat nail polish to make it long-lasting and pretty.
Package included: 24 Sheets Halloween Nail Art Stickers