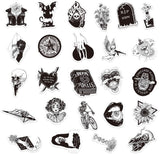 Gothic stickers 50 pieces no repeat removable vinyl diy trendy aesthetic decal stickers
Cool Girl Gothic Stickers 50 Pieces No Repeat Removable Vinyl Stickers for Water Bottle, Computer, Skateboard, Tablet, Luggage, Phone, Notebook, Trendy Aesthetic Decal Sticker for Teens (Gothic)
These white and black Gothic stickers are designed with Cool funny patterns which can make you stand out from your friends. Just choose favorite stickers pack and inspire imagination to DIY your own objects like laptop, phone, skateboard bike, guitar, suitcase, bedroom, snowboard, etc
Can Be Applied to just about anything to create your own custom look. Some suggestions to try - Hydro Flask Laptop Luggage Scrapbook Stickers Pack Cute Aesthetics Stickers for Teens Girls (Black and White Set of 50 Random Selection)
Set contains 50 pieces 2 - 3.5 inch non-repeating vinyl stickers for DIY Craft Projects.
High quality Stickers: The sticker is made of PVC material, Surface covered with a light film, 100% Waterproof Long lasting and vivid colors.
Well-made: Each stickers is perfectly cut according to the shape and size, you can use it directly without cutting, high-precision printing technology, the pattern is more precise and clear, Uncover the adhesive on the back and use it directly.
Wide range of applications: Gothic stickers can be used to decorate laptops, suitcases, game pads, game consoles, skateboards, refrigerators, wardrobes, walls, guitars, cars, bicycles, helmets, mobile phones, desktops, hydro-flasks, Kids Stationery box, Limited only by your imagine.