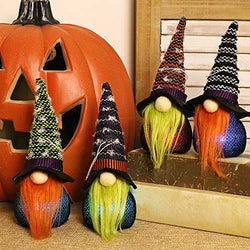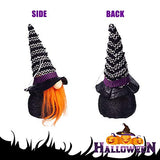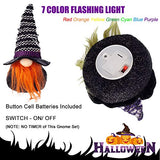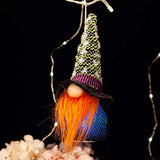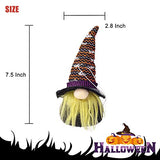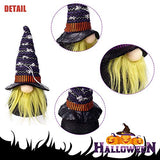 Halloween Gnomes 7 Color Changing Lights
Halloween Gnomes 7 Color Changing Lights, Swedish Tomtes Witch Gnomes Holiday Decoration - Set of 4
HALLOWEEN GNOME LIGHT - With 7 color flashing light body, this hallowen gnome set must be eye-catching this halloween holiday. It is very easy and safe to decorate. Button cell batteries are required when you want to light up the gnomes(INCLUDED IN THE PACKAGE). You must turn on or turn off the switch when you use it, and please note that there is no timer of this gnome set.
SIZE & MATERIAL - These gnomes are 7.5 inches tall from bottom to the top of hat , and 2.8 inches wide. Their noses are crafted from felt fabric and the beards are made of cozy faux fur. The plastic bases are weighted, so that they can stand by themselves. Or you can hang them wherever has hooks as well.
ABOUT GNOME - Gnome, which is also called Tomte, or Nisse. It is part of Scandinavian mythology. According to Scandinavian folklore, gnomes usually hide from humans and use magic. The physical appearance of a tomte is considered to be extremely short, elderly and has a long beard.
HANDMADE - Each Gnome is handcrafted, carefully sewing with attention and love. They are absolutely charming and will win over any Gnome lover's heart. Pick them and begin your gnome collection.
GIFT&DECORATION - The adorable gnome set will be a unique gift for anyone during holiday season and birthday time. Its delicate appearance and suitable size make it an essential decoration for your tree, table, shelf, fireplace, etc; it's sure to add a fun and festive touch.
Details: GMOEGEFT Halloween Gnomes 7 Color Changing Lights, Swedish Tomtes Witch Gnomes Holiday Decoration - Set of 4   ABOUT GNOME In Sweden there is the Gnome, which is also known as Tomte or Nisse. It is short but possesses of great energy. His uncertain footprints and magic power always remain mysterious. The belief of the tomte has been widespread in Scandinavian countries and to this day Sweden still has stories of him.   This gnome set dresses up as witch with lights in 7 different colors, adding a stronger festive touch during Halloween holiday. SPECIFICATIONS Color: Black*White*Orange*Green*Purple Size: 7.5 inches tall from bottom to the top of hat, 2.8 inches wide. Power Supply: Button cell batteries (included)   PACKING: PP bag, each package included 4 Gnomes as the detail pictures shown.
Package Dimensions: 1.0 x 1.0 x 1.0 inches