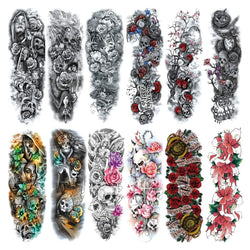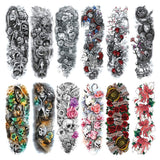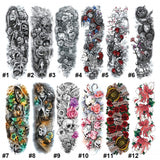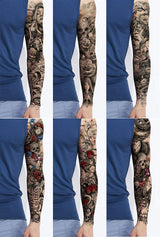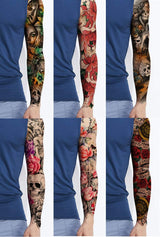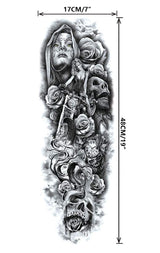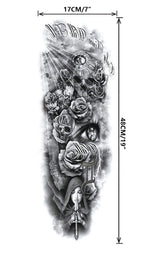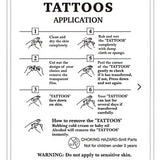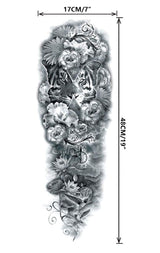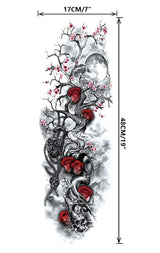 Full Arm Temporary Tattoo Sleeve Large Vine Peony Flower Rose Skull Skeleton Leg Makeup Floral Blossom Tribal Lotus Realistic Waterproof
Full Arm Temporary Tattoo Sleeve Large Vine Peony Flower Rose Skull Skeleton Leg Makeup Floral Blossom Tribal Lotus Realistic Waterproof
Distinctive Design Temporary Tattoos For Women Adults Teens Bridal Brides Girls Lady Female Kids Tattoo Paper 3D DIY Custom Cover.
Long Custom Black Pirate Compass Chains Evil Demon Day of the Dead Lotus Peacock Eye Totem Clock Flower Blossom Punk Girl Gun Old School 3D Rose Peony Blue Colorful Fox Tiger Lion Rose Ancient Knight Warrior Totem Armband Black Panther Temporary Tattoos Paper. Visit Store To Choose Numerous Fashion Extra Big Temporary Full Arm Tattoo Sleeves Styles!
Extra Large Size -- 3D Extra Large Long Size L19"xW7" Realistic Full Sleeve Temporary Tattoos DIY Custom Sexy Face Fake Tattoos For Women Men Children Girls Boys Teens Adults.
Quick Apply & Last Long -- In Less Than 20 Seconds Water Transfer With Long Lasting Temp Tattoos Paste Paper. Washable, Removable, Simply Apply By Adding Water To The Paper Backing And Removed By Rubbing Alcohol, Body Oil. Lasts For 3 To 7 Days On Arm, Hands, Fingers, Thigh, Armband, Face, Shoulder, Calf, Neck, Fingers, Back, Chest, Brest, Waist, Wrist, Forearm, Foot, Leg Cover up And Any Other Part Of Your Body Art Painting Sketch Drawings Skin.
Safe And Water Resistant -- Nontoxic Ink And Healthy Semi Permanent Full Arm Temporary Tattoo For Men Women, Safe For Kids Children Boys Girls Teens. Tattoo Arm Sleeves for Women Men Are Customized Waterproof With No Worries Of Taking Showers.
Makeup Tips and Styling Tools -- They Look Real And Will Be The Most Beautiful And Shining Part On Your Body Custom Temporary Sleeve Tattoos Kit for Men Women. Great For Halloween Costume, Night Club, Party, Beach, Gym, Wedding, Electrical Syllable,Festivals,4th fourth of July, Hide Scar, St. Patrick's Day, American Pride Day, Brides, Day of the Dead, Vacations, Holiday, Home Decoration, Cosplay, Pride Day, Fun, Birthday, Christmas Gifts, Xmas, Crafts Car Décor Coffee Cups Glass Anywhere Else.
Healthy & Simply To Use NON-TOXIC Ink Semi Permanent Temporary Custom Tattoos Paper With FDA Certification. It's Healthy, Environmental, No Pain, Safe For Boys Girls Teens Teenagers Kids Children. Easy To Water Transfer On Skin Within 10-20 Seconds. The Temporary Tattoos are Easily Removable, Washable, Clear Off By Rubbing With Alcohol Or Body Oil.
Waterproof & Durable Temp Tattoos Are Look Real Waterproof And Last Long For 4-7 Days, Depends On Times Of Showers You Take And You Scrub With Soap And Water. Stay Firmly On Arm, Leg, Face, Neck, Shoulder, Tiny Hands Tattoo, Fingers, Back, Chest, Brest, Forearm, Waist, Wrist, Feet And Any Other Part Of Your Body Art Breast Skin.
Great For All Seasons Fashion Realistic Temporary Tattoos Kit Sexy Body Art. Great For Almost Any Occasion As Beach, Gym, Party, Club, Halloween, Costume, St. Patrick's Day, 4th fourth of July, American pride day, Day of the dead, Pride Day, Electrical Syllable,Bridal,Brides,Wedding,Festivals,Vacations,Concerts,Music Festival, Birthday, Children's Day, Fun, Christmas, Xmas Gifts, Home Decoration, Ornament, Even Furniture, Fridge Décor, Closet, Stereo, Crafts Cups, Cabinet, Bottle, Table, Desk, Car Variety And So On.
★ Long Lasting--Keep For 3-5 Days
★ EASY TO Apply --10-20 seconds with just water and easily removed by baby oil.
★ SAFE --NON-TOXIC, meet rigid safety and NON-TOXIC materials standard.
★ Beauty & Realistic --Show off your fake tattoos anywhere!! You can stick the tattoo on shoulder, wrists, fingers, waist, sleeve, back, legs, Body arm, Sexy chest ,hand, feet, neck and any other part of your body. Great For Party, Wedding, Holiday, Swimming the beach, Summer Style, festivals, pool, Traveling, Club and more...
★Can also be applied to surfaces such as glass etc.
Black Tribal Temporary Tattoo, The Perfect Disappearing Body Art. Use for Cosplay, Halloween Costume, Summer Beach, St. Patrick's Day, Party Tattoo Favor Supplies, Festivals, Easter,4th Fourth Of July, Day Of The Dead, Pride Day, DJ, Night Club, Christmas Gifts, Xmas, Gym, Wedding, American independence day, bachelor parties, Graduation Season, Carnival, Styling Tools, Punk, Makeup Tips, Rock, Beauty, Fake Jewels, Coffee Cup, Bottle Décor, BBQ, Crafts.