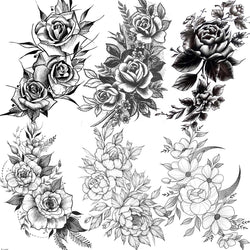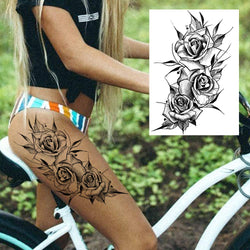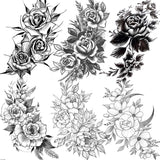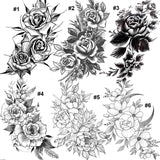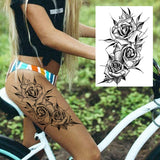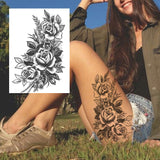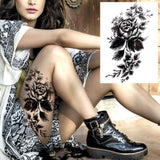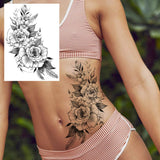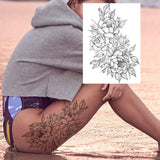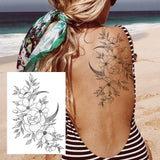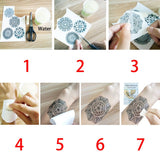 Flower Temporary Tattoos Black Ink Tribal Large Rose Tattoo Stickers Waterproof Legs Fake Tattoos Arm Moon Blossom Leaf Big Peony Flora
Flower Temporary Tattoos Black Ink Tribal Large Rose Tattoo Stickers Waterproof Legs Fake Tattoos Arm Moon Blossom Leaf Big Peony Flora
Choose from or Collect ALL 6 Temporary Tattoos Sticker Fashion Designs Flower Painting Drawings Tribal Realistic Black Flora Blossom Sketch Temporary Tattoos Stickers. Each Tattoo Sheet Measures 21x15cm 8.2"X5.9"
Distinctive Design Temporary Tattoos For Women Adults Teens Bridal Brides Girls Lady Female Kids Tattoo Paper 3D DIY Custom Cover.
🍷Healthy Nontoxic Temporary Tattoos
🍸 NON-TOXIC Tattoo Ink Semi Permanent Temporary Tattoos Stickers. Temp Tattoos Sets are Safe To Apply On Face, Arm, Ear, Neck, Hands, Fingers, Chest, Arm, Breast, Shoulder, Back, Waist, Wrist, Thighs, Leg, Ankle, Foots, Face Tattoos, Neck Tattoos, Arm Tattoos, Finger Tattoos And Any Part Of Body Skin. Even Home Decoration Ornament, Crafts, Cups, Bottle, Fridge, Closet, illustration, Clipart, Stereo, Biker, Car, Phone Case Décor.
🍷Easy Application And Long Lasting
🍸 Water Transfer Black Tattoos Paste Is Easy To Use. To Apply Variety Kids Tattoos Temporary On Skin By Wet It With Water And Wait For 20-30 Second. Waterproof Temporary Tattoos For Women Girls Are Disposable Durable And Long Lasting On Body For 4-7 Days But Removal Washable Very Easy To Remove By Rub It With Makeup Remover Oil Or Alcohol.
🍷No Pain To Have Realistic Tattoos Painting
🍸 Fake Tattoos For Women Girls Looks Real and Cause No Pain And Won't Leave Any Scars. Even No Worry To Apply On Baby, Child, Toddler, Children, Teens, Teenagers, Lovers, Youth, Boys, Girls, Kids Temporary Tattoos Paper Tato Tatoos Taty.
🍷For All Seasons And Events
🍸 3D DIY Custom Temporary Tattoo Kits Provide You Lots Of Body Art Makeup Decals Great For All Seasons Fashion Realistic Temporary Tattoos Kit Sexy Body Art. Great For Almost Any Occasion As Beach, Gym, Party, Club, Halloween, Costume, St. Patrick's Day, 4th fourth of July, American pride day, Day of the dead, Pride Day, Electrical Syllable,Bridal,Brides,Wedding,Festivals,Vacations,Concerts,Music Festival, Birthday, Children's Day, Fun, Christmas, Xmas Gifts, Home Decoration, Ornament, Even Furniture, Fridge Décor, Closet, Stereo, Crafts Cups, Cabinet, Bottle, Table, Desk, Car Variety And So On.
★ Long Lasting--Keep For 3-5 Days
★ EASY TO Apply --10-20 seconds with just water and easily removed by baby oil.
★ SAFE --NON-TOXIC, meet rigid safety and NON-TOXIC materials standard.
★ Beauty & Realistic --Show off your fake tattoos anywhere!! You can stick the tattoo on shoulder, wrists, fingers, waist, sleeve, back, legs, Body arm, Sexy chest ,hand, feet, neck and any other part of your body. Great For Party, Wedding, Holiday, Swimming the beach, Summer Style, festivals, pool, Traveling, Club From Winter To Summer Style, For Any Party, Gym, Beach, Club, Halloween, St. Patrick's Day, 4th Fourth Of July, American Pride Day, Day Of The Dead, Easter, Pride Day, Electrical Syllable, Festivals, Traveling, Vacations, Children's Day, Birthday, Fun, Anniversary, Christmas, Xmas Gifts, and more...
Can also be applied to surfaces such as glass etc.
Feature:
1.Can Use In The Skin, Metal Ceramics, Glass Surface, Bottle Décor, Cup. Do Not Apply To Sensitive Skin, Near Eyes Or If Allergic To Adhesive.
2.Printed Designed Patterns, Color Bright And Looks Realistic Like Real Tattoo.
3.Very Good Choice As Temporary Tattoo, Body Makeup, And Also It Can Cover Scar On Body.
4.Long Lasting, Waterproof, Easy Wear And Easy Clean.
How To Apply:
1.Clean The Part Of Skin That You Want To Apply With Tattoos.
2.Choose Your Preferred Pattern And Cut It.
3.Remove The Transparent Protective Film, Face Down The Paper And Stick It Onto The Skin.
4.Wet The Tattoo Paper Completely With A Towel And Wait For 20-30 Second.
5.Remove The Paper, Let The Tattoo Dry. Your Colorful Tattoo Is Done.
How To Remove:
Temp Tattoos Can Be Simply Rub Away By Household Alcohol Or Body Oil.
Black Tribal Temporary Tattoo, The Perfect Disappearing Body Art. Use for Cosplay, Halloween Costume, Summer Beach, St. Patrick's Day, Party Tattoo Favor Supplies, Festivals, Easter,4th Fourth Of July, Day Of The Dead, Pride Day, DJ, Night Club, Christmas Gifts, Xmas, Gym, Wedding, American independence day, bachelor parties, Graduation Season, Carnival, Styling Tools, Punk, Makeup Tips, Rock, Beauty, Fake Jewels, Coffee Cup, Bottle Décor, BBQ, Crafts.