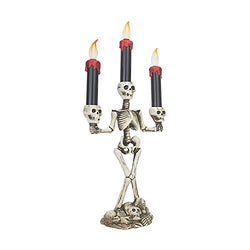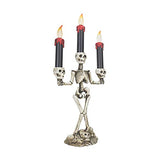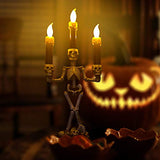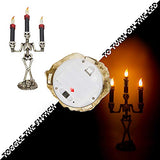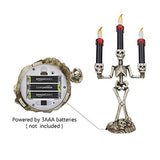 Triple LED Halloween Candles Flameless and Skeleton Candle Holder Stand for Skull Halloween Decoration and Haunted House Decor
Brand: Evelyne
Color: White, Black
Features:
Halloween Decoration Fun, Prefect for Theme Party, Trick or Treat Celebration, and Spooky Haunted House Ambient.
Made of High Quality Materials for Durability that Prolong Usage. Operates with Batteries.
Skeleton Triple Candle Stand Beautifully Crafted, Can Also Be Used as Costume Prop.
Flameless Candle Light is Free of Fire Risk, A Smokeless, Safe and Eco-Friendly Alternative to Traditional Burning Candle.
Requires 3 of AAA batteries, which are NOT included in the package.
Details: Evelyne Holiday Season Halloween Fun Special: Flameless Candle Light for Party Decoration!
Who We Are
Evelyne is a Southern California company established in 2016. The company founder was in search of quality and affordable home products for his newly born child, Evelyne as he could not find what he was looking for. He decided to import quality products and started selling them at affordable prices online under the name of his beloved daughter - Evelyne.
100% Satisfaction Guarantee
We want you to be completely satisfied with every Evelyne product. If you are in any way dissatisfied with your purchase, we will replace it or refund your money within 30 days of purchase.
180 Day Limited Warranty
We warrant, to the original purchaser of an Evelyne product, that it is free from defects in workmanship and material for 180 days after purchase date. Evelyne warranty does NOT cover any damages due to wear and tear, improper use, and physical damage. If defects are determined to be covered under warranty, Evelyne will repair or replace the defective product at no charge. Shipping charges may apply.

Package Dimensions: 14.7 x 6.3 x 3.4 inches