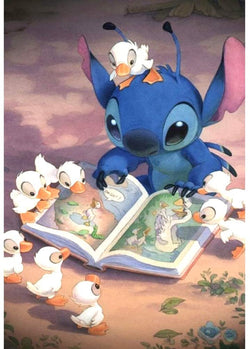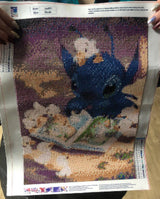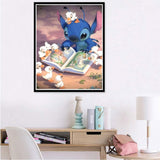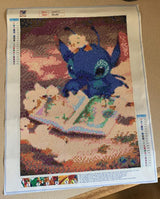 Duck and Stitch Adult Embroidery Arts Craft Home Decor Cartoon Anime Series 12 x 16 inch DIY 5D Diamond Painting by Number Kit Canvas
Duck and Stitch Adult Embroidery Arts Craft Home Decor Cartoon Anime Series 12 x 16 inch DIY 5D Diamond Painting by Number Kit Canvas
VIVID DIAMOND PAINTING CANVAS: This high clear rhinestone painting canvas is flat, waterproof , environmental and super sticky. And the symbols are easy to read. With vibrant reflective diamonds, the finished diamond painting project is extremely vivid and never fade.
RELIEVE STRESS AND BEAT BOREDOM: Do away with the daily stresses, beat boredom of everyday life and light up your room! This is diamond painting, the trending new DIY arts & crafts hobby that lets you easily create gorgeous art that shimmers and sparkles. The hours fly by as you channel your creativity into a stunning finished artwork.
PACKAGE CONTENTS: Vivid and premium quality canvas art template, extra reflective diamonds matched to the canvas color codes (in separate bags), a diamond painting pen tool to pick up diamonds, a plastic tray to hold the diamonds and wax to insert in the pen tool.
PERFECT GIFT AND WALL DECORATION: Give the diamond painting kits or a completed diamond art painting as a gift to family and friends to brighten their home and bring a smile to their faces. It can be used to decorate your living-room, bedroom, office, restaurant, bar and any other spaces. Your diamond art masterpiece will light up any room.
USA Seller
U.S.A. Seller
Ships from the USA
Ships from the U.S.A
WE MADE IT 2021 IS HERE
Be sure to use Discount Code TAKETENOFFANY to receive a 10% discount off your purchase from my shop. Thank you in advance for looking at my items.
Please stay safe as the New Year Begins a Renewed Celebration of Life.
For the month of January I am offering a flat 25% off ANY 1 or more items on my personal website.
www.TimelessThreadsOfVegas.com
I hope you will drop in and start saving today.
Sometimes, you just don't feel like doing your hair. I hand alter all my wigs to look realistic and convincing enough to be worn out on the town or for photo/video shoots. Suffering from hair loss? Get your confidence back with an awesome new look! A New You is Waiting With Each Custom Hand Crafted Wig I Make, Be Sure to Get Yours Today!
Shop Under Construction BUT I am adding items every day!
Follow Shop and Check Back OFTEN for NEW ITEMS!
Save 10% on ANY Purchase - ANY Day - NO MINIMUM - Please use Discount Code TAKETENOFFANY at Checkout.
Other Discounts Offered RCA-15Percent at TimelessThreadsOfVegas.com
You can also Save 10% at ASpell4U.com by applying the code SpellMe10 at my site www.aspell4u.com
Thank You for your support of ALL Small Businesses in this time of Crisis including mine. May the Country Recover Soon!
Need your order a bit sooner?
We can't guarantee this over Christmas as we are ALL at the Mercy of the Post Office.
* PRICE (DOMESTIC )
$11.00 for Domestic U.S.
Priority Mail is in addition to the regular shipping charge, not a replacement for it.
Priority Mail Upgrade Can be added to ANY ORDER using the link below.
https://www.etsy.com/listing/929885943/priority-mail-upgrade?ref=listing_published_alert