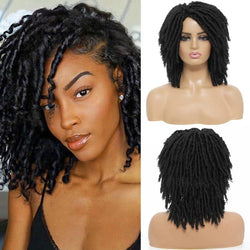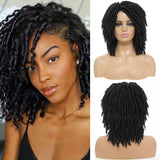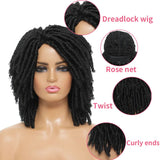 Dreadlock Synthetic Braiding Short Wigs Crochet Twist Braids Wigs Afro Curly Synthetic Hair Braiding Wig African Hairstyle
♥Premium Material: Made of the best synthetic heat resistant fiber, which not only enables the wig to look and feel completely like real human hair, but is also suitable for long term use. 
♥Breathable rose net within the network makes you feel comfortable when you wear it. Cap Size is Adjustable mesh.
♥Exquisite Workmanship: Every synthetic afro wig is handmade by our skilled workers with guaranteed quality control. It's Classic, Traditional, and Even Trendy, Great for Wig Beginners and Wigs Hobbyists. You can wear your wig easily with comfortable experience.
♥DAILY & COSPLAY USE: Natural looking suit for daily, party, fancy dress, Celebrity, Halloween, Cosplay or any other occasion you want. Perfect for dark skin to embrace your natural beauty - Bouncy dreadlock drapes shoulders for a shaggy & bold look.
♥Multiple Styling Choices - You can make a middle or side part, with or without bangs, even pull it back then make a ponytail. You can buy one wig, get many different style options. You can wear it for parties, Halloween, weddings, daily use, travel and any time you like to show your charm.
♥Before wearing your wig, give the wig a shake after taking it out of the package and hang it on for a while, it'll be more fully and more beautiful than before!
🧡【Fancy Wig Style】 Afro Dreadlock Wig, Fine Crochet Braided Wigs/ Afro Wigs For Black Women And Men, Fluffy Layers of Rope like Strands Fall Below Your Shoulder.
🧡【Wig Cap】 Medium Size 22.5" Can be Adjusted to Fit Most of the Heads Perfectly. Makes the dreadlock Wig Safer and More Convenient.
🧡【Beginner Friendly Bye Bye Glue】 Less Than 3 Minutes Install The Hand Braided Wig is Perfect for Women And Men Who Wants No Glue And No Gel, It's Super Safe And Easy to Wear.
🧡【Bye Bye--Tangle】 The Afro Dreadlock Wig Braided wigs For Black Women And Men is No tangle With Japanese High Quality Heat Resistant Synthetic Fiber, It's more Comfortable And Breathable.
🧡【Kind Reminder】1.Give the afro short braided dreadlock wig a shake after taking out of the package and comb the braided wigs with your fingers for some time, the shape will become as beautiful as the pictures shown. 
2.The afro dreadlock wigs for black women and men can show different looks on different shapes of faces and different sizes of the heads. 
3.You can decorate the braided wig with headband, dreadlock beads and color ropes, to make your unique fancy style.
Keywords
Short Curly Wig with Bangs, Afro Curly Synthetic Wig, Short Fluffy Bouncy Curly Wig, Cosplay Party Costume Wig, Lime Green Wig, Fairy Sprite Wig, Custom Styled Wigs, Mermaid Cosplay, Fashion Anime, Role play Cosplay, Masquerade, Human Hair Feel, Custom Made Wig, Top Quality Wig, Heat Resistant Wig, Drag Queen Wigs, Drag Queen Hair, Drag Wigs, Drag Hair, Custom Drag Wigs, Drag Performer Hair, Drag Performer Wigs, Drag Wigs, Drag Queens, Trendy Wigs,  Stage Performer Wigs, Cosplay Wigs, Daily Wear, party, fancy dress, Holidays, Night Out, Cosplay, Special Occasion, Lolita Wig, Daily Wear, Ready to Wear, Heat Resistant, LARP, Cosplay Wig, Crossdresser Wig, Drag Queen Wear, Stage Performer Hair, green wig, green curly wig, green wig for women, pastel wigs, short curly wig ,shoulder length wigs, green curly wigs for women, wigs for white women. afro curly wig, short curly afro wig, Short curly Green Synthetic Wig, mid-length wigs, synthetic wigs, wigs cosplay , 14inch wigs, wigs with bangs for black women, fashion wigs for women, heat resist synthetic wig, short wigs for women, wigs for black women, fashion wigs, wigs bangs, beauty girl wigs, best wigs, wigs medium length
Dreadlocks Wig, Afro Short Curly, Best Synthetic Wig Hair Fiber, Faux Locs Braids, Curly Ends, Cute Crochet Wig, Braided Wig, Adjustable Cap Size, shaggy bold look, Bouncy dreadlock, real human hair feel, best synthetic fiber, Premium Synthetic