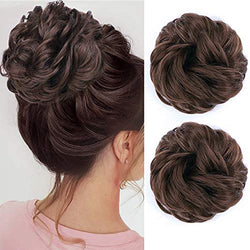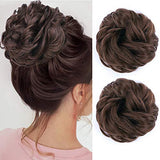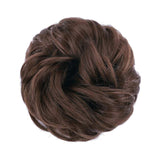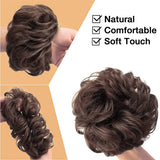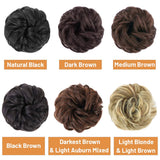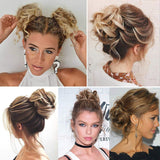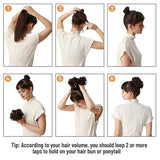 Dark Mocha Brown Messy Buns | Set of 2 | Limited Time Offer | Act Now! | FAUX Human Hair Curly Chignon Extensions Scrunchy Updo Hairpieces
SPECIAL OFFER
Take $5.00 OFF Your Purchase
IMMEDIATELY HERE ------>
https://www.etsy.com/shop/TimelessThreadsVegas?coupon=TAKE5NOW
Dark Mocha Brown FAUX Human Hair Curly Messy Bun Chignon Extensions Scrunchy Updo Hairpieces Set of 2 Limited Time Offer Act Now
Messy Bun Hair Piece Thick Updo Scrunchies for Women, young Adults, Teen and Pre-Teen Girls Curly Wavy Messy Bun Juva Bun Extensions for Thin Hair Synthetic Chignon Hairpiece Scrunchie Scrunchy Updo Bun
Full in Volume - Messy look, fashion trending, super fluffy and natural look, easy to blend with your own hair. More volume is added to the bun so it will be thick enough to make a nice bun on top of your head.
Natural Texture - High quality synthetic fiber is used when designing hair wrap to ensure durability and and a natural hair look and feel. Using a top quality fiber ensures that there is no odor and that it has a soft matte finish and not shiny. Every Woman Need These Easy to Use Beauties in Her Wig Closet Yesterday!
Durable in Use - With proper care and maintenance the durable elastic rubber bands inside your new Messy Hair Chignon will provide you with a long life of service and enjoyment as you use it to get the latest trending style. Try two today using the New Cute Cat Ear Buns Hairstyle that is storming the internet influencers and YouTube Stars.
Easy to Use - Just tie your hair into a ponytail or bun and then wrap scrunches around your hair, within 30 seconds you will have a new look. You can create so many cute and charming hairstyles in just a few seconds with it. When you get up late and have no time for styling, just wear a bun. Your new Scrunchie will fast become your goto choice for lazy days.
Suitable for All Kinds of Occasions - You can wear a bun in your daily life for school, work, or proms. Perfect choice for Daily Wear, party, fancy dress, Holidays, Role play, Night Out, Cosplay, Fashion, Special Occasion, A quick and Easy hairstyle for teens and young girls for school pictures or activities.
Every woman needs this in her wig closet TODAY!
Sometimes, you just don't feel like doing your hair. I hand alter all my wigs to look realistic and convincing enough to be worn out on the town or for photo/video shoots. Suffering from hair loss? Get your confidence back with an awesome new look! A New You is Waiting With Each Custom Hand Crafted Wig I Make, Be Sure to Get Yours Today!
Thank You for your support of ALL Small Businesses including mine. May the Country Recover Soon!
Create the Perfect Trending Hairstyle in under 30 minutes with a Quick Wig from Hair On Fire Wigs.
If you are suffering from hair loss or thinning hair - get your youthful look back with one of our Gorgeous Locks EXCLUSIVELY OFFERED on Etsy and my Personal Site - ASpell4U.com
Please take advantage of my current discount offer -
On Etsy discount code TAKETENOFANY for a 10% Discount will apply automatically at Checkout. Then head over to my Personal Site - ASpell4U.com for an ADDITIONAL $10.00 Savings with FREE SHIPPING by using code "etsy" at Checkout. NO MINIMUM PURCHASE REQUIRED.