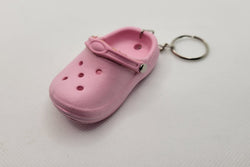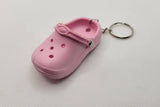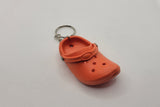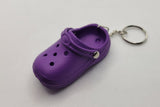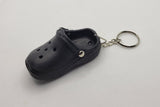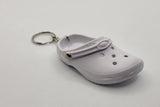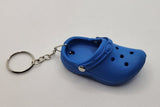 Croc Keychains Baby Croc Keychain Shoe Charms Keychain Pendant Shoe Decor DIY Crafting Cute Charms Little Shoes For Backpacks Gifts for Kids Women and Girls
Show your appreciation for these trendy summer shoes by carrying these rubber slipper key chains in your pocket. Featuring an assortment of bright bold colors, these novelty key chains make a fun goody bag gift for children or adults at parties and events. 
Pull On closure closure
Hand Wash Only
Personalize them and put them on your backpacks. Cute Croc Keychains are perfect for your keys, bookbags, purses and are great gifts!
Made of safety quality material, no odor and non-toxic.

Great for DIY craft projects. You can customize these little shoe keychains and give them to friends. These make great birthday and Christmas presents. 
Length is 7.5cm (Length) by 3.6cm (Width)
Charms not suitable for small children.

Introducing our new mini croc keychains These cute shoe charms are made of high-quality silicone with advanced technology, making them flexible, durable, and reusable. Measuring 3 inches each, color choice includes  pink,  purple,  white,  blue,  green,  red, and  yellow charms.

These  small charms are not only perfect for making personal keychains but also make great pendant decorations for your handbag, backpack, cell phone, car or other delicate items. Plus, they are waterproof and easy to clean!

Our fashion design mini croc keychain is an ideal gift for your boyfriend, girlfriend, family, or friends. It's perfect for Valentine's Day, anniversary gifts, birthday gifts, or Easter gifts.


 mini croc keychain 
silicone shoe charms
 flexible and durable
reusable and smooth
 waterproof and easy to clean
ideal pendant decoration
Valentine's Day gift
anniversary gift
birthday gift
 Easter gift


mini croc keychain, silicone shoe charms, flexible and durable, reusable and smooth, waterproof and easy to clean, ideal pendant decoration, Valentine's Day gift, anniversary gift, birthday gift, Easter gift