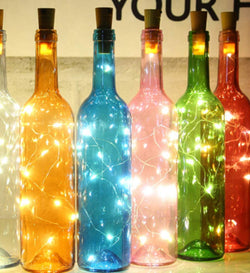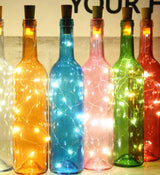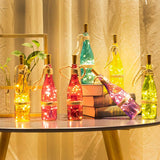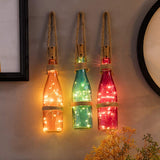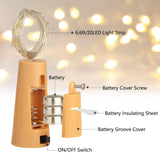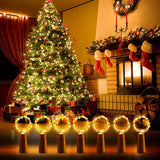 Copper wire 6.6ft & 20 Fairy Lights LED Wine cork lights Party Lights Wine Bottle lights Party Decor Christmas Halloween Wedding Bar Decor
Eye-catching Decor Most popular warm white lights. Decorating recycle bottles simply & romantically, they will beautiful like a firefly in a bottle. Fits openings as narrow as 1/2 inch and as large as 1 inch and You can also use them to light up anything, like Gift boxes, Christmas trees, flowers, dark corners and so on.
Widely Used DIY Bottle Lights 20 LED more bright and lasting than 10 LED, enough copper wires length to decorate any you want. Made of high-quality ultra thin silver wire, can be easily designed to any DIY shape you like. Perfect for Party, Wedding, Barbecue, Halloween, Christmas, Garden, Indoor and Outdoor Decoration, etc.
Energy-Saving and Environmentally Friendly The wine bottle lights made of high-quality material flexible and easy to store, the cork string lights has high brightness, low radiation and no pollution.
Easily Operated by Batteries 3 x LR44 batteries included, more than 48 hours of battery life. (Please note that the batteries need to be replaced when the lights get dim.)
USA Seller
U.S.A. Seller
Ships from the USA
Ships from the U.S.A
As a Special offer of Love from me a Discount Code of TAKETENOFFANY will be applied at checkout as a Thank You for your support of ALL Small Businesses in this time of Crisis including mine. May the Country Recover Soon!.
Save $10.00 with FREE SHIPPING on my Personal Site by using code "etsy" at Checkout - ASpell4U.com
NO MINIMUM PURCHASE REQUIRED.
Other Discounts Offered RCA-15Percent at TimelessThreadsOfVegas.com
You can also Save 10% at ASpell4U.com by applying the code SpellMe10 at my site www.aspell4u.com
Need your order a bit sooner?
We can't guarantee this over Christmas as we are ALL at the Mercy of the Post Office.
* PRICE (DOMESTIC )
$11.00 for Domestic U.S.
Priority Mail is in addition to the regular shipping charge, not a replacement for it.
Priority Mail Upgrade Can be added to ANY ORDER using the link below.
https://www.etsy.com/listing/929885943/priority-mail-upgrade?ref=listing_published_alert