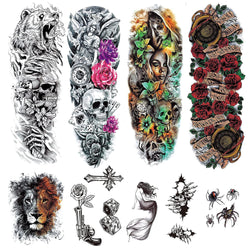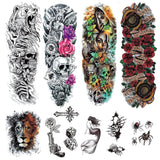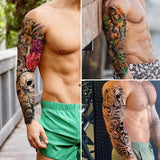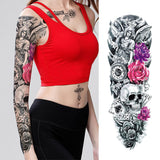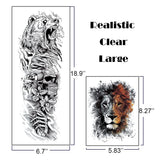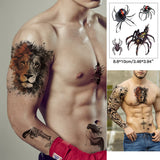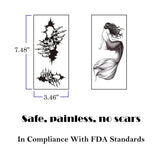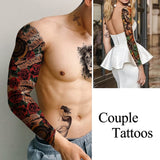 Complete Set of 9 Sheets Waterproof Fake Tattoo Temporary Realistic Waterproof Full Arm Fake Tattoo Flower Can Also Use for DIY Crafting
Many sizes 9 Sheets Temporary tattoo stickers of different sizes,
4 sheets of 6.7"* 18.9" (17cm * 48cm),
2 sheets of 5.8"* 8.27'' (14.8cm * 21cm),
2 sheets of 3.46"* 7.48" (8.8cm * 19cm), and
1 sheet of 3.46"* 3.94" (8.8cm * 10cm).
Safe and Removable Temporary tattoo made of safe and harmless raw materials, Look Real, and will not leave permanent marks.
Waterproof & Long Lasting Tattoo stickers is waterproof, users can normal bath, Fake Tattoo can stay 2-7days, if want stay longer, just reduce friction.
Easy to Use and Remove Water transfer only takes 10-20 seconds. When you want to remove, Wipe off after moistening with household alcohol or baby oil
Huge range of uses Water transfer stickers can also be used on ceramics, glass, cloth, metal, wood, plastic and other items to beautify life
Black Tribal Temporary Tattoo, The Perfect Disappearing Body Art. Use for Cosplay, Halloween Costume, Summer Beach, St. Patrick's Day, Party Tattoo Favor Supplies, Festivals, Easter, 4th Fourth Of July, Day Of The Dead, Pride Day, DJ, Night Club, Christmas Gifts, Xmas, Gym, Wedding, American independence day, bachelor parties, Graduation Season, Carnival, Styling Tools, Punk, Makeup Tips, Rock, Beauty, Fake Jewels, Coffee Cup, Bottle Décor, BBQ, Crafts.