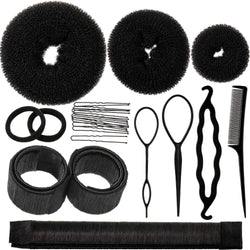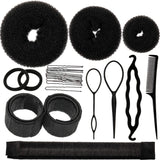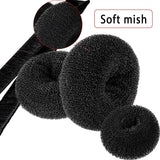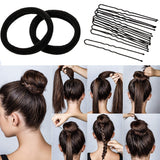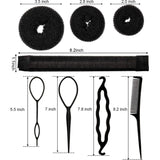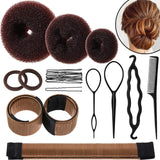 Complete hair bun shaper styling set | everything you need for making the trending cat ear buns | works with any hair type or length
SPECIAL OFFER
Take $5.00 OFF Your Purchase
IMMEDIATELY HERE ------>
https://www.etsy.com/shop/TimelessThreadsVegas?coupon=TAKE5NOW
Hair Bun Shaper Set, Include 3 Pieces Hair Bun Donut, 2 Pieces Bun Marker, 4 Pieces Ponytail Hair Tool, 10 Pieces Bobby Pins and 2 Pieces Elastic Bands for Women Kids Hair Bun Maker Kit (Black)
Complete hair styling set: Package includes everything you see in the first picture, there are 3 donuts, 2 bun makers, 4 ponytail tail hair tool, 2 hair elastic bands, 10 bobby pins, which can satisfied all you hair style
Package is factory shrink wrapped to keep everything fresh and new until you open the package to use.
Easy to use: it is easy to handle these hair styling tool set and just a few minutes you can create a beautiful and cute or elegant hairstyles
Hair donuts: include 3 hair donuts with different size-Large, medium, small; One piece of each, which is not only ideal for children, kids, or teenagers but also for women with thin or fine hair
Bun makers: the pretty bun maker creates good buns in seconds with no need for other tools like hair pins or hair clips, the magic bun maker can keeps your hair in a good bun shape all-day long
Ponytail hair tool: include 1 piece comb, 2 pieces of braiding hoops and 1 piece curler which can create multiple hairstyles in minutes and suitable for all hair types from curly to pin straight
Create the Perfect Trending Hairstyle in under 30 minutes with a Quick Wig from Hair On Fire Wigs.
If you are suffering from hair loss or thinning hair - get your youthful look back with one of our Gorgeous Locks EXCLUSIVELY OFFERED on Etsy and my Personal Site - ASpell4U.com
Please take advantage of my current discount offer -
On Etsy use code TAKETENOFANY for a 10% Discount at Checkout. Then head over to my Personal Site - ASpell4U.com
for an ADDITIONAL $10.00 Savings with FREE SHIPPING by using code "etsy" at Checkout. NO MINIMUM PURCHASE REQUIRED.
Need your order a bit sooner?
We can't guarantee this over Christmas as we are ALL at the Mercy of the Post Office.
* PRICE (DOMESTIC )
$11.00 for Domestic U.S.
Priority Mail is in addition to the regular shipping charge, not a replacement for it.
Priority Mail Upgrade Can be added to ANY ORDER using the link below.
https://www.etsy.com/listing/929885943/priority-mail-upgrade?ref=listing_published_alert