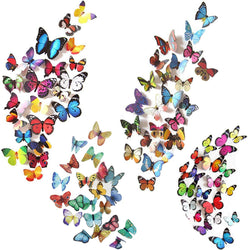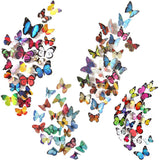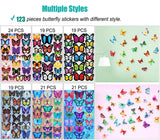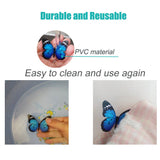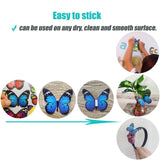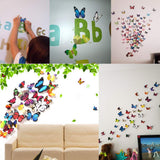 Butterfly Removable 3D Wall Decal 123 Butterfly stickers 3D Butterflies Wall Decals Child's Room Birthday DIY Project Flower Decorations
123 PCS Butterfly Wall Decals, 3D Butterflies Removable Mural Stickers Wall Stickers Decal for Home Decorations Kids Room Bedroom Nursery Decor
Vivid butterfly wall stickers sets with different style, DIY different shape you like to enjoy different moods.
Good decoration gadgets: Become an interior decorator and transform your living space to extraordinary one with these unique stickers.
Durable and Reusable: butterfly wall decals - can last a long time, Easy to clean and use again.
Versatile: Apply to décor a theme party, Home Wall Stickers Decals, Butterfly museum embellishment, Baby children room, Photography background, Christmas, Wedding, Birthday, etc.
Easy to stick: Can be used on any dry, Clean and smooth surface. This butterfly is a combined product, It need glue adhesive strip on it before attaching on the wall.
Size range from 1.5" approx. to 2.5" approx.
As a Special offer of Love from me a Discount Code of TAKETENOFFANY will be applied at checkout as a Thank You for your support of ALL Small Businesses in this time of Crisis including mine. May the Country Recover Soon!.
Save $10.00 with FREE SHIPPING on my Personal Site by using code "etsy" at Checkout - ASpell4U.com
NO MINIMUM PURCHASE REQUIRED.
Need your order a bit sooner?
We can't guarantee this over Christmas as we are ALL at the Mercy of the Post Office.
* PRICE (DOMESTIC )
$11.00 for Domestic U.S.
Priority Mail is in addition to the regular shipping charge, not a replacement for it.
Priority Mail Upgrade Can be added to ANY ORDER using the link below.
https://www.etsy.com/listing/929885943/priority-mail-upgrade?ref=listing_published_alert
ing_published_alert