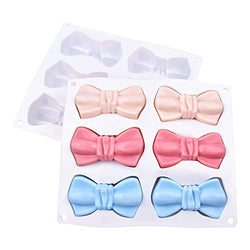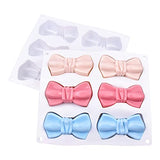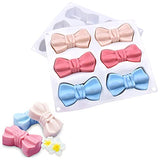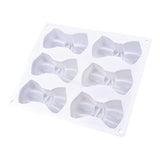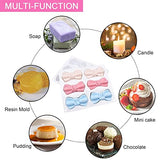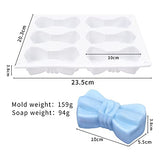 Silicone Mousse Cake Molds Bowknot Fondant Chocolate Candy Molds Bow Silicone Mold DIY Cake Molds for Birthday Party Cake Cupcake Supplies
☙【Food Grade Silicone】:Bow Tie shaped silicone mold made of food grade silicone, no smell and non toxic, safe and durable.

☙【Size】: Silicone mold is 9.17*7.92*1.48inch, and each individual bow tie shape measures about 3.9*2.07*1.4inch

☙【Multi-purpose】 The bow silicone molds are fantastic for making chocolate candy, jello, sugar craft, fondant, clay, cake topper, cake decorating and more.

☙【Silicone mold temperature 】Can withstand -40 degrees Celsius to +230 degrees Celsius, you can use in microwave or oven to bake a cake; jellies. Ice can be used to produce soap. No matter how you want to use this lovely shape, it can be reused, and easily clean, Made of soft silicone so please allow 1-2mm size error in measurement.
Details: Specification - Dimension: 23.5*20.3*3.8cm (9.25 inch*8 inch*1.5inch) - Weight:0.38lbs - Soap size: 10*5.3*3.6cm  (3.94 inch*2 inch*1.4inch ) - Material: Safe and environmental silicone - Color: White Made of 100% Silicone, FDA and FLGB Quality, Heat Resistant from -40 to 446 F degree Freezer, microwave, and oven-safe, dishwasher-safe Flexible construction ensures easy removal of baked goods or gelatin. The non-sticky silicone mold is easy to peel off. Used to make soap , candle, muffins, mini cakes, cake pops, chocolates, breads, mini quiches and potpies, pudding, uniquely shaped soap or ice.