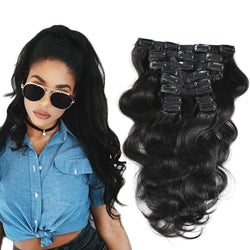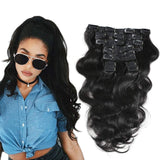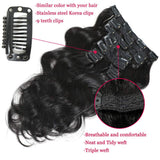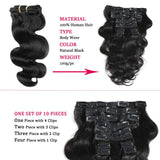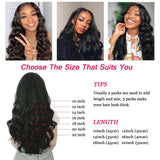 Body Wave Clip ins Hair Extensions Virgin Human Hair Wavy Unprocessed Clip in Hair Extensions Set of 10 You Choose the Length from 10 - 20"
❤️ Body wave clip ins human extensions are made from selected virgin human hair. Extensions feel very soft and blend nicely with your natural hair.
❤️ Wavy Hair Clip In Extensions is with classic triple lace weft clip in design. You will enjoy flexible French lace ultimate comfort once applied. Triple weft means more hair than typical extensions and thick hairpieces. 10 pieces for a full head, less bulky on your scalp.
❤️ Premium quality 9 tooth pressure clips with silicone lined. These clips help keep the extensions in place and harmless to your natural hair. Besides, these clips were sewed very tight and in place.
❤️ Usually 1 bundles add volume, 2-3 bundles make more full head styles. The hair is soft and bouncy. Very minimal shedding and no problems with tangling and bad smell. They are super easy to install and maintain.
❤️ Wavy Hair Clip In Extensions feel extremely soft, each weft is quite thick. It blends perfectly and seamlessly with your natural hair. You can use it at weddings, travel, parties, birthdays, etc. Add points for your charm.
Perfect choice for Daily Wear, party, fancy dress, Holidays, Role play, Drag Queen Wig, Drag Wig, Drag Performer Wig, Drag Wig, Cosplay Wig, Drag Hair, Drag Queen, Luxury Wigs
With proper care and maintenance can be used for a long time.
How to care for Human Hair Extensions
TIP #1: GIVE EXTENSIONS TLC
You may notice an overarching theme to this list of tips—that you should be showing your extensions lots of love. After all, you probably paid quite a bit for them! When you have human hair extensions, you should care for them the same way you would hair grown from your very own scalp. "The maintenance method may differ but the level of TLC required won't change."
TIP #2: DON'T SLEEP ON THEM
Just as it's important to remove your makeup before going to bed, you want to make sure you remove clip-in hair extensions before getting your beauty sleep. Keeping them in can cause them to become tangled in your hair and can damage your clips. When taking out your clip-ins, do so from top to bottom. This will limit any tangling during the removal process.
If you have sewn-in extensions, you have to (of course) leave your extensions in for bed. To keep them from becoming tangled and prevent frizz, you can wear a sleeping cap or silk scarf while you sleep.
TIP #3: BE GENTLE
When combing and detangling your extensions, use a wig brush or a wide-tooth comb that will be gentle on them. Remember to always start from your ends and work your way up! "Just like detangling your own hair, starting from the ends and working your way to the root will help cut down on shedding and breakage". If you take care when detangling, you'll get a longer wear out of your extensions—so, it's well worth it.
TIP #4: KEEP WASHING TO A MINIMUM
If you have sewn-in hair extensions, wash your hair as often as you normally would. If you have clip-in extensions, however, washing your extensions once a month is fine. While this may seem like an extreme length of time, remember that clip-in extensions don't have the natural oils that your hair does, so washing them too often will cause them to become dry and brittle.
TIP #5: USE A GENTLE SHAMPOO AND CONDITIONER
For hair extensions, you want to make sure you use a mild shampoo and conditioner. Consider using one that's safe for color-treated hair as your hair extensions have likely been dyed to the perfect shade. Don't forget the Conditioner to keep your extensions looking soft and manageable.
Having trouble finding products suited to your extensions? We'll let you in on a little secret: If you have extensions made of real hair, normal hair care and hair styling products should do the trick! All you need to do is look for gentle, color-safe formulas.
TIP #6: AVOID HEAT TOOLS
Your hair extensions don't receive the oils and nutrients that the hair on your head does, so when you can, avoid using heat tools to style them. Instead, opt for a heat-free styling option like a texture spray.
TIP #7: USE HEAT PROTECTANT
When you do style your extensions with heat, make sure you use a heat protectant to prevent heat damage.
TIP #8: SWITCH UP YOUR HAIR STYLING PRODUCTS
When using hair styling products on your extensions, use ones that have a gentle formula—just like your hair care products.
TIP #9: STORE THEM PROPERLY
If you have clip-in hair extensions, it's a must to store them properly to prevent them from becoming tangled. Try storing them in an empty shoe box! When storing extensions, put them in a ponytail so the clips don't snag on the rest of your extensions. Simply wrap each weft around each other before securing them with a gentle hair tie.
TIP #10: KEEP THEM MOISTURIZED
While sewn-in extensions get moisture from your hair's natural oils, clip-in extensions can become dry as they don't have the same exposure. To keep them from becoming parched, use a leave-in conditioner every so often. Just make sure not to use too much as this can cause your extensions to appear greasier than your natural mane!
As a Special offer of Love from me a Discount Code of TAKETENOFFANY will be applied at checkout as a Thank You for your support of ALL Small Businesses in this time of Crisis including mine. May the Country Recover Soon!.
Create the Perfect Trending Hairstyle in under 30 minutes with a Quick Wig from Hair On Fire Wigs.
If you are suffering from hair loss or thinning hair - get your youthful look back with one of our Gorgeous Locks
EXCLUSIVELY OFFERED on Etsy and my Personal Site - ASpell4U.com
Save $10.00 with FREE SHIPPING on my Personal Site by using code "etsy" at Checkout - ASpell4U.com
NO MINIMUM PURCHASE REQUIRED.
Wash and condition once a month
How to Wash?
STEP 1: Mix cool water with wig shampoo in a sink or basin. Soak your wig for five minutes, or a little longer depending on how soiled it is. Never rub, twist or wring it.
STEP 2: Gently dip it up and down in the water. If there are makeup stains on the cap, clean them gently with a small brush (like a toothbrush).
STEP 3: Rinse your wig gently but thoroughly in cool water.
STEP 4: To condition your wig, refill your sink or basin with clean, cool water.
Add one or two capfuls of conditioner to the cool water.
Immerse your wig in the conditioner solution, gently working the solution through the wig with your fingers.
STEP 5: Rinse your wig again gently but thoroughly in cool water.
STEP 6: Pat the excess water out of the wig with a towel.
Hang your wig loosely on a wig stand to dry at room temperature.
Also, never comb a wet wig or dry it with a blow dryer.
Air drying takes only a few hours and ensures healthy-looking results.
Drag Queen Wigs, Drag Queen Hair, Drag Wigs, Drag Hair, Custom Drag Wigs, Drag Performer Hair, Drag Performer Wigs, Drag Wigs, Drag Queens, Trendy Wigs, Custom Styled Wigs, Stage Performer Wigs, Cosplay Wigs, Anime, Cosplay, Masquerade, Daily Wear, party, fancy dress, Holidays, Role play, Night Out, Cosplay, Fashion, Special Occasion, Lolita Wig, Daily Wear, Top Quality Wig, Ready to Wear, Human Hair Feel, Custom Made Wig, Heat Resistant, LARP, Cosplay Wig, Cross Dresses Wig, Drag Queen Wear, Stage Performer Hair