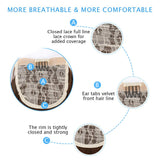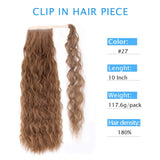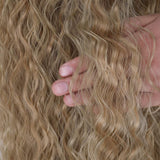 Ash Blonde Long Water Wave Ponytail Wrap Around Extension Heat Resistant Synthetic Fiber #27 Ash Blonde SPECIAL SALE Will End AT Any Time!
SPECIAL OFFER
Take $5.00 OFF Your Purchase
IMMEDIATELY HERE ------>
https://www.etsy.com/shop/TimelessThreadsVegas?coupon=TAKE5NOW
100% imported Japanese fiber high temperature resistant, soft and natural, reusable, washable, can be curled or straighten with electronic hairpins below 140 degrees Celsius, but not dyed
Ponytail is 22 inches long, in a slightly curled shape, or as some might call it, a water wave ponytail, and it's right here
The best synthetic fiber for ponytail extensions, with the best physical properties, appearance, color and texture, highly similar to human hair. This is the perfect wavy ponytail hair accessory for any occasion!
How do you use your new ponytail?
Tie your hair and prepare ponytail clips.
The steel forks of ponytail clamp clamp on the rubber strap of the upper.
Hold the ponytail net in place with one hand and wrap the excess ponytail around the hair with the other.
Secure it with bobby pins after winding.
💕Premium Hair Extension - Perfect for Adding Length Volume and Fullness to a Ponytail or a Big Bun, Provides Secure and Comfortable Attachment for All Day Wear. You can change your hairstyle immediately.
💕Drawstring Synthetic Ponytail Hairpiece, Approx. Weight 100g. 100% Japanese Heat-Resisting Fiber, Can Be Curled Or Straightened By Electronic Hair Stick Under 140°C, But Can't be Dyed.
💕 High Quality Ponytail is Super Soft, Natural Looking, Reusable, Washable and Silky, Like Real Human Hair When You Wear It. The Ponytail is Fluffy and Full - Very Three-Dimensional, Fashionable, Stylish and Versatile.
💕Beautiful in All Occasions: Perfect for Many Occasions, Such as Daily Use, Halloween, Cosplay, Club, Concerts, Costume, Theme Parties, Bachelorette Party, Weddings, Dating, Prom and More.
💕Soft & Natural Material - Perfect for adding volume and length. Made of high-quality synthetic fibers, to ensure naturalness, gloss, softness, and comfort, looks more natural and can be reused for a long time. It can work with different hair lengths and can clip into thin or thick hair
💕Easy to Care - Just using a little mild shampoo in cold or warm water, finally allow it to air dry. And this ponytail hair extension has a comfortable and breathable inner net design which is no irritation to our skins and no bound feeling
💕Various Application - Fashionable and stylish long hair looks natural, real, very pretty, and soft touch. Create a high ponytail, a face ponytail, or just simply add the ponytail hairpiece for a different hairstyle. You can cut it shorter or thin it out. Perfect for daily use, theme parties, prom, weddings, carnival, Halloween, and other occasions
Designed to fit all hair types
Wear it comfortably at work, at the gym, weddings, nights out, dates, and even when traveling to enjoy a good look all day, every-day!
Simply tie your hair into a ponytail, attach the Synthetic Drawstring Ponytail around your hair and style as you desire. Simple and gorgeous.
Easy & Fast To Use
Gives You Instant Hair Volume
Unnoticeable To Others - Looks Like Your Real Hair
Fits All Hair Types - Even Short And Thin Hair
Doesn't Effect Your Hair
Reusable & Easy To Clean
clip in hair
hair extensions
Russian hair
double drawn hair
hair extensions
613
beach blonde
golden blonde
blonde
Bath & Beauty
Hair Care
Hair Extensions
clipins
clipin hair
bleach blonde
Light blonde
Ash Blonde
Ash Brown
Dark Blonde