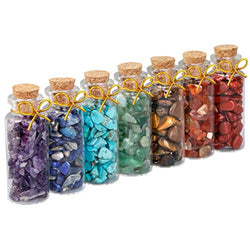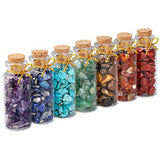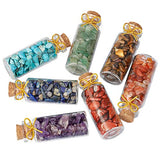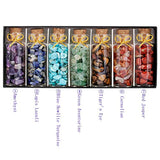 Chakra Stone Wishing Bottles Set of 7 Crystal Healing Reiki Wicca Stones Kit
7 Chakra Stone Wishing Bottles Set Crystal Healing Reiki Wicca Stones Kit
7 Chakra stone: amethyst, lapis lazuli, blue howlite turquoise, green aventurine, tiger's eye stone, carnelian, red jasper.
Multiple functions: perfect for wishing, healing, jewelry making, fengshui, study, display, birthstone collecting, housewarming and more.
Good for health: reduce electromagnetic radiation, and demagnetizing. 7 chakra stone can enhance meditation, aid in healing the mind, body and spirit, reiki and can be used as fidget stones to release anxiety and stress.
Good for gift: the wishing glass bottles are packed secure in a box, ready to make a great gift for stone collection, business, stone learning, celebration, decoration, birthday and more.
Package: 1 set (included 7 pcs of bottles). Approx 7" x2.9"x1.1" for box, 0.94" wide x 2.36" high for bottle, 0.47" for bottle diameter, crush pieces stone are polished and vary in 0.1"-0.3" . Pictures are only for your reference, stones' shapes, colors, sizes, patterns are different from each other. Weighs approx 350 grams per set.
Details: Type: tumble chip stone Feature: stones are vary in size, shape, color. Pictures are only for your reference. You may receive one(s) similar set as pictured.
Package Dimensions: 7.3 x 3.6 x 1.8 inches