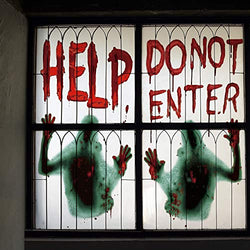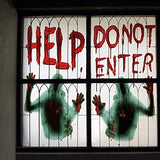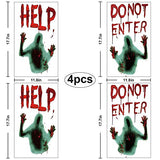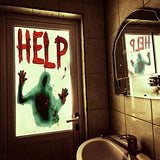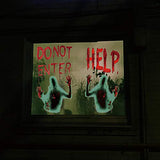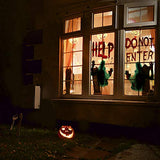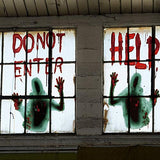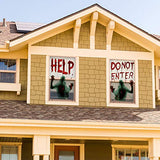 Giant Bloody Window Door Cover Creepy Spooky Stickers for Halloween
Giant Bloody Window Decorations Halloween Posters House Door Cover Creepy Spooky Window Stickers for Halloween Party Decorations Halloween Window Decorations
[EASY TO USE]These blood prints and splatters window clings are made with Self-adhesive PVC that can be removed without leaving residue. Halloween decorations window stickers are easy to remove! Reusable! Not Sticky Window Cling,it's avoid smearing the window glass or door!
[SIZE FIT FOR DOORS/WINDOWS/CAR/RESTROOM WALL] Halloween posters 45CM X 30CM.The way it's printed makes the images look 3D ! Show a bit of your spooky side with bloody handprint window clings that easily adhere to any smooth surface, including mirrors, fridges and even floors.
[CREEPY BLOODY SCARY HALLOWEEN PATTERN DECORATIONS]Printed with the words "HELP US"" DO NOT ENTER". From the inside during daylight hours it looks like a bloody people is outside trying to get in. From the outside at night with a light inside it looks like a bloody people is inside trying to get out.
[PERFECT HAUNTED HOUSE DECOR SET ] Just tape it on the door or on the window with the sticky tapes we prepared for you in the package. And your haunted house door has done. Work even better as window covers or glass door covers with back light effects.
[Perfect Bloody Scene Prop]It is perfect for any spooky occasion or party. Kids will love it!
Details: Product Description: 100% brand new & high quality Size:17.7inx11.8in Package:4 pieces Feature: 1.CREEPY BLOODY SCARY HALLOWEEN PATTERN DECORATIONS: Printed with the words "HELP US"" DO NOT ENTER". From the inside during daylight hours it looks like a bloody people is outside trying to get in. From the outside at night with a light inside it looks like a bloody people is inside trying to get out. 2.The scary, creepy effect with back lights will definitely scare passers-by and your guests, making it your favorite Halloween door and window cover. 3.A super easy and inexpensive way to make your house the scariest. Just tape it on the door or on the window with the sticky tape or by electrostatic adsorption. Work even better for window or glass door with backlight effect. 4.Stick Bloody Handprint on windows, you'll be ready to welcome trick-or-treaters on Halloween night! - If they dare to knock on your door! Warm Tips: 1.Halloween window scene more suitable for glass doors or windows 2. This was my best Halloween find yet! The neighborhood kids loves seeing this up in our windows! Definitely gave some a fright! 3.Scary window decorations,have fun on Halloween
Package Dimensions: 17.7 x 11.8 x 0.4 inches