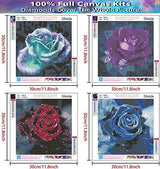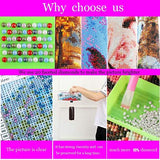 Beautiful Roses 5D DIY Diamond Painting by Numbers Diamond Art Kits Set of 4
4 Pack 5D DIY Diamond Painting by Numbers Diamond Art Kits, Roses Full Drill for Adults Kids Gifts for Home Wall Décor, Beautiful Roses 11.8×11.8in
4 sets 5D full drill diamond painting kits, 4*11.8X11.8in Painting canvas, 4* quick point pen, 4* glue, 4* plastic Tray, Round resin stereoscopic diamonds.
Diamond painting is most popular DIY decoration, colorful and three-dimensional, easier and more beautiful than cross-stitch. Diamond painting kit is easy to realize classic works of art, You can largely enjoy process of painting.
Production steps: first put the same diamond in the tray, then gently put the insert of the point drill pen on the square glue, leave some glue on the pen, and finally pick up the diamond and put it on the corresponding number on the canvas.
The 5D DIY diamond embroidery is for adult, the elderly, children and art beginners, who can follow the instructions to paint by numbers with the different colored diamonds.