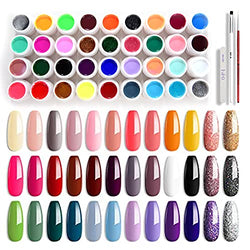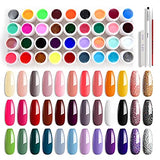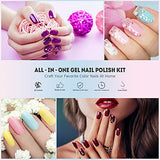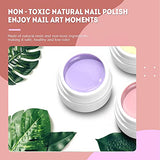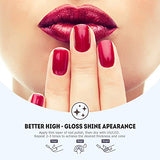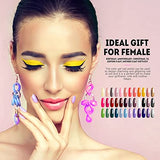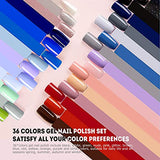 36 Colors UV Led Gel Nail Design Kit With Brush Strip Gel Art Paint For Nails
36 Colors Gel Nail Polish Set Gel Paint Nail Art Kit Esmaltes Para UñAs En Gel UV Led Gel Nail Design Kit With Brush Strip Gel Art Paint For Nails At Home Cream Gel Nail Polish Kit For Beginners (8ML*36)
About this item
🌺🎀【ALL-IN-ONE Gel Nail Polish Set, Gel Art Paint For Nails At Home】💅36*colors gel nail polishes set : black, white, green, nude, pink, glitter, brown, blue, red, yellow, orange, purple and other colorful nail polishes to satisfy all your color preferences, suitable for daily life and all seasons spring, summer, autumn and winter. It also includes 1* rubbing strips to help you make beautiful nail styles, 1* flat brush and 1* pointed brush to help you draw any pattern you like .

🌺🎀【36 Colors Gel Paint Nail Art Kit, Ideal Gift Set for Women】💅 The holiday gel nail polish kit is suitable for any holiday or special event, such as Birthday, Anniversary, Christmas, Valentine's Day, Mother's Day gifts ect. There are 36 gel nail colors, so you don't need to make a lot of effort to decide which color you should choose. The gel nail polish colors can be used to design charming and glittering nail at will. The nail design kit is a perfect gift for girlfriend, wife and mother.

🌺🎀【Non-Toxic Gel Nail Design Kit , Enjoy Gel Art Paint For Nails】💅The esmaltes para uñas en gel uv led is safe, healthy and low-odor as it is made of natural resin and non-toxic ingredients. The ingredients have excellent coverage and finish, and will not harm your nails. Warning: For nails art only. Skin contact may cause allergic reactions. Avoid contact with eyes, mouth and skin. When touching them, rinse immediately. In case of any incident, please contact your doctor immediately.

🌺🎀【Simple Colors Nail Polish Kit, Long-Lasting For 21 Day】💅High-quality gel cream nail polish have high tinting power and good toughness. UV gel nail polish can provide gloss, smooth appearance and flawless coverage, bring super bright effect. Apply a thin layer of nail polish, then dry with UV/LED. The correct method can last at least 3 weeks.

🌺🎀【Not Only Color Gel Nail Polish Set, But Also Gel Paint Nail Art Kit With Brush Strip】💅It is very suitable for complex nail art, as the cream gel nail polish can be used as gel nail polish also as painted pattern. It is very important to file and clean the nails to avoid non-sticky or easy peeling before applying the base coat. Please apply thin and bake for 60S, then repeat it to color you want. Note: Color gel cannot be dried completely, so apply the top coat and bake for 30S at the end.