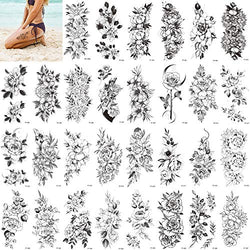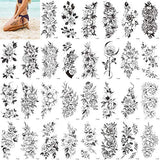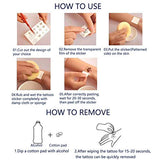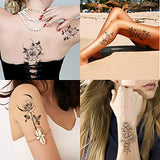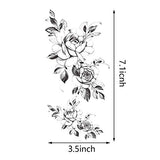 Set of 30 Flower Temporary Tattoo Sticker Beautiful Floral Fake Tattoo
Set of 30 Temporary Tattoos Fake Flower Stickers Semi Permanent Tatuajes Temporales Long Lasting Realistic Flower Tats Waterproof Leg Makeup
Details:
Size: 7.1*3.5 inch (30sheets)
How To Use:
1.Clean and dry the skin completely.
2.Cut out the design of your choice and remove the transparent film.
3.Tattoos sticker face down on skin.
4.Rub and wet the tattoos sticker completely with damp cloth or sponge.
5.Peel the corner of the tattoos sticker gently to check if it has transferred, if not, Press down and wet again.
6.Tattoos can last for 3-7 days.
How To Remove:
1.Rubbing cold cream or baby oil.
2.Alcohol will remove the tattoos instantly.
Keep Lasting:
1.Do not touch water within 2 hours after applying the tattoo.
2.Don't use force to rub the area where the tattoo is applied on the day of bathing. 3.Try not to soak in the bath or the bath time is not too long, too high temperature and humidity will affect the firmness of the tattoos sticker.
Warning
1. Do not apply to sensitive skin.
2. Not for children under 3 years old.
Distinctive Design Temporary Tattoos For Women Adults Teens Bridal Brides Girls Lady Female Kids Tattoo Paper 3D DIY Custom Cover.

Exquisite patterns 30 sheets tattoos have exquisite and unique designs. Plentiful flowers and realistic patterns, these sexy fake blossom flower tattoo stickers are popular with women adults girls.

Realistic and High-quality Tattoos have unique design and advanced printing technology, it makes these flowers clear and realistic, they look no different from real tattoos, and these long lasting tattoos usually last 3-7 days. Moreover, tattoos meet safety and quality standards. They are safe for sensitive skin, non-toxic, non-allergenic, long lasting and does not fade easily.

Easy to apply Wipe your skin clean first, stick the pattern face down on the skin then cover with wet towel, press for about 20-30 seconds, and uncover the back paper, you will get a perfect tattoo! And it can be easily removed with alcohol or baby oil.

Show your personality You can apply them on arm, leg, back, thigh, or anywhere what you want. Show your personality with temporary tattoos on daily party, Gym, punk party, Club, Carnival, Traveling, Wedding, Dancing, Beach, Festivals, Vacations, Concerts, etc

Realistic Full Half Sleeve Temporary Tattoos DIY Custom Sexy Face Fake Tattoos For Women Men Children Girls Boys Teens Adults.

Quick Apply & Last Long -- In Less Than 20 Seconds Water Transfer With Long Lasting Temp Tattoos Paste Paper. Washable, Removable, Simply Apply By Adding Water To The Paper Backing And Removed By Rubbing Alcohol, Body Oil. Lasts For 3 To 7 Days On Arm, Hands, Fingers, Thigh, Armband, Face, Shoulder, Calf, Neck, Fingers, Back, Chest, Brest, Waist, Wrist, Forearm, Foot, Leg Cover up And Any Other Part Of Your Body Art Painting Sketch Drawings Skin.

Safe And Water Resistant -- Nontoxic Ink And Healthy Semi Permanent Full Arm Temporary Tattoo For Men Women, Safe For Kids Children Boys Girls Teens. Tattoo Arm Sleeves for Women Men Are Customized Waterproof With No Worries Of Taking Showers.

Makeup Tips and Styling Tools -- They Look Real And Will Be The Most Beautiful And Shining Part On Your Body Custom Temporary Sleeve Tattoos Kit for Men Women. Great For Halloween Costume, Night Club, Party, Beach, Gym, Wedding, Electrical Syllable,Festivals,4th fourth of July, Hide Scar, St. Patrick's Day, American Pride Day, Brides, Day of the Dead, Vacations, Holiday, Home Decoration, Cosplay, Pride Day, Fun, Birthday, Christmas Gifts, Xmas, Crafts Car Décor Coffee Cups Glass Anywhere Else.

Healthy & Simply To Use NON-TOXIC Ink Semi Permanent Temporary Custom Tattoos Paper With FDA Certification. It's Healthy, Environmental, No Pain, Safe For Boys Girls Teens Teenagers Kids Children. Easy To Water Transfer On Skin Within 10-20 Seconds. The Temporary Tattoos are Easily Removable, Washable, Clear Off By Rubbing With Alcohol Or Body Oil.

Waterproof & Durable Temp Tattoos Are Look Real Waterproof And Last Long For 4-7 Days, Depends On Times Of Showers You Take And You Scrub With Soap And Water. Stay Firmly On Arm, Leg, Face, Neck, Shoulder, Tiny Hands Tattoo, Fingers, Back, Chest, Brest, Forearm, Waist, Wrist, Feet And Any Other Part Of Your Body Art Breast Skin.

Great For All Seasons Fashion Realistic Temporary Tattoos Kit Sexy Body Art. Great For Almost Any Occasion As Beach, Gym, Party, Club, Halloween, Costume, St. Patrick's Day, 4th fourth of July, American pride day, Day of the dead, Pride Day, Electrical Syllable,Bridal,Brides,Wedding,Festivals,Vacations,Concerts,Music Festival, Birthday, Children's Day, Fun, Christmas, Xmas Gifts, Home Decoration, Ornament, Even Furniture, Fridge Décor, Closet, Stereo, Crafts Cups, Cabinet, Bottle, Table, Desk, Car Variety And So On.

★ Long Lasting--Keep For 3-5 Days

★ EASY TO Apply --10-20 seconds with just water and easily removed by baby oil.

★ SAFE --NON-TOXIC, meet rigid safety and NON-TOXIC materials standard.

★ Beauty & Realistic --Show off your fake tattoos anywhere!! You can stick the tattoo on shoulder, wrists, fingers, waist, sleeve, back, legs, Body arm, Sexy chest ,hand, feet, neck and any other part of your body. Great For Party, Wedding, Holiday, Swimming the beach, Summer Style, festivals, pool, Traveling, Club and more...

★Can also be applied to surfaces such as glass etc.

Black Tribal Temporary Tattoo, The Perfect Disappearing Body Art. Use for Cosplay, Halloween Costume, Summer Beach, St. Patrick's Day, Party Tattoo Favor Supplies, Festivals, Easter,4th Fourth Of July, Day Of The Dead, Pride Day, DJ, Night Club, Christmas Gifts, Xmas, Gym, Wedding, American independence day, bachelor parties, Graduation Season, Carnival, Styling Tools, Punk, Makeup Tips, Rock, Beauty, Fake Jewels, Coffee Cup, Bottle Décor, BBQ, Crafts.