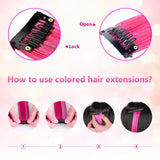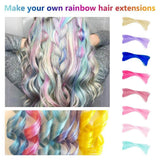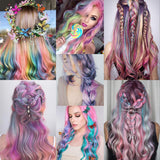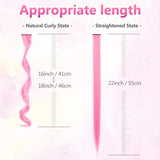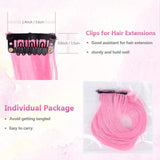 Rainbow Hair Extensions 22 Multi Color Highlights Clip In Synthetic Hairpieces
MULTICOLOR - Instant 'Highlight' Mix with Your Own Hair.
Custom Hand Crafted Design Perfect for Raves, Music Festivals, Concerts, Clubs, Holidays, Parties and Everyday Wear.
MATERIAL - High Quality Synthetic Heat Resistant Fiber Feels like Real Human Hair.
SAFETY - Does not Contain any Chemical Dyes, Damages Hair and Health, No tangles, No shedding, No Odor, Very Comfortable to Wear all Day
VERY EASY TO USE - Easy to Wear and Remove, Clip-on Straight Hair Extension with Each Clip. A Completely New Fashion Style.
Natural looking and soft to touch.
Perfect choice for Daily Wear, party, fancy dress, Holidays such as Halloween, Role play, Etc.
100% Brand new and high quality
Style: Curly
A perfect item as gift or adornment
Light weight and natural look, Very easy to use, just clip it on hair
Safety, without any chemical dye to damage your hair & health
Quantity:22 Individual Colors
Easy to use. Clip-in curly hair extensions, each with a separate clip.
Material: 100% Heat resistant synthetic. Colored hair extensions can be trimmed and straightened as needed. The hair is long enough that you can trim it to fit your hair length.
22 colors, teal blue, mint blue, dark blue, rose red, light purple, wine red, red, mango yellow, yellow, creamy white, white, light pink, pink, princess pink, peach pink, orange, green, fluorescent green, from blue to mint blue, from light purple to light pink, from peach pink to light pink, from purple to light purple.
Each hairpiece has an individual package, which avoids them banding together or tangling up.
Perfect to use for daily dress up, costume party, cosplay, unicorn themed party, gift, little pony party, or any casual events.
Things to avoid with hair extensions
1. Don't bleach or lighten your extensions.
2. Don't wear your extensions to swim in, this will tangle them and dry them out.
3. You can curl or trim them to DIY your own hair style. But it is not recommended to use hot iron. If you need a perm, the temperature must be controlled within 180 degrees Celsius.
4. Be sure to take your extensions out before going to bed, carefully clip by clip to avoid damaging your own hair.